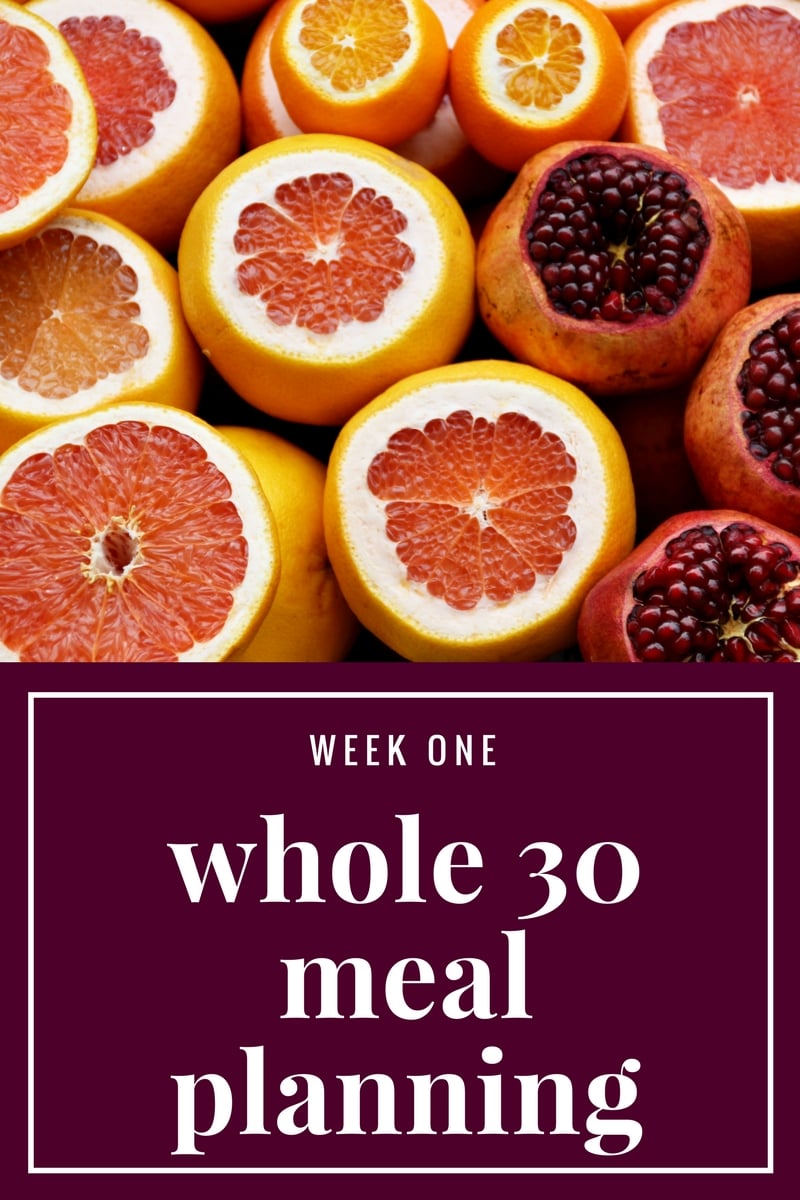 I am so excited!  I am starting my fourth Whole 30 on Monday, January 8th and I am ready.  After doing three other Whole 30's, one successfully and two semi successfully, I know the importance of pre-planning, planning, and support.  I gave up on the second and third Whole 30's because I hadn't planned well enough.  
Hopefully by now, you have a good understanding of what the Whole 30 is and what it isn't.  This isn't a long term diet but a 30 day reset.  I know I need the reset as I am really finding it hard to stay away from sugar after the long holiday season.  
During my first few Whole 30's, I didn't buy any of the books except It Starts with Food.  This time around I am relying on a few different resources including, the Whole 30 website, Melissa Urban's Instagram for inspiration, and of course NomNomPaleo.   I'll be working from my own copy of the Whole 30 Day by Day, which so far seems like a great resource.  Part workbook, part guidebook.   If you don't have it, there is still time to order it this weekend or swing by your local bookstore and pick up a copy.
Before I get started on the meal planning, I just want to say a few things.  
My Whole 30 might look a lot different than yours.  You are welcome to follow my plan if it works for you, but I really encourage you to make this your own.  Some things that might work for me, might really not work for you and I don't want that to be the reason that you don't stick through the whole thirty days.  I need you to stick it out because I need support too!  If you need advice or guidance, I will be happy to point you in the right direction but I don't see myself as an expert in any of this.  
I am doing the Whole 30 alone, as in no one else in my household is joining me on this.  My son is a vegetarian, my daughter is a bit picky and my husband refuses to give up beer.  A lot of my meal planning is centered around meals that I can make for all of us and just modify a bit for the Whole 30.  I'll be adding some information in the notes that explains exactly how I will stay compliant while still feeding my family what they want.
The official Whole 30 rules calls for no snacking.  They suggest three meals and possibly a post workout meal if you are doing high intensity workouts and need that extra fuel.  While I really agree with this, I do know that I need to have a few snacks on hand for those emergencies where hunger may sabotage all of my hard work. In my meal plan, I include a couple of ideas for snacks and emergency foods that I have on hand.  
I'll post my meal plan for the week on Thursdays.  This will give you time over the weekend to re-supply, prep and get ready for the next week.  Please feel free to post your own meal plan ideas!  We can all learn from each other.

My breakfasts tend to be the same everyday but since the Whole 30 can get a bit boring, I have included a couple of different breakfast ideas.  I am going to do the same with my lunches.  If I have my lunches planned out and ready, I tend to do better.  Dinners?  Those change daily.  Some days I have more time to cook and prepare, other days I don't.  
Meal Planning for Week 1
Breakfast Options:   Three scrambled eggs with red peppers and topped with half an avocado.   Strawberries (it is strawberry season here!) Whole 30 compliant bacon
Chia Pudding with pumpkin seeds and blueberries
Super protein energy smoothie (I don't really like drinking cold things for breakfast but sometimes it works for me)
Lunch Options: Paleo Chili with Avocado
Carrot Soup with Crumbled Sausage (This soup was perfect for my Whole 30 last time but I found I needed a bit more substance. I sprinkled crumbles of sausage on it and it was great!)
Dinner Plans:
Monday:  Poke Bowls
Whole 30'ers:  I make my poke with very little soy sauce and will just omit for this month.  Instead of rice, I'll eat mine on top of romaine lettuce, topped with more avocado, some pickled veggies and pumpkin seeds.
For my non-Whole 30 family:  I'll make them a pot of rice so they can eat their poke on top of rice rather than lettuce.  
Tuesday: Kalua Pig Lettuce Tacos
Whole 30'ers:  Start the kalua pig in the crock pot at the beginning of the day and it will be ready when you get home.  Instead of tortillas, use lettuce wraps and top with fresh salsa and avocado.
For my non-Whole 30 family: They will enjoy the kalua pig in warm tortillas.  My vegetarian son will get a vegetarian meat substitute for his tacos.
Wednesday: Grilled Chicken, Roasted Sweet Potatoes with Cilantro Pesto 
Whole 30'ers:  All of this is compliant!  No modifications needed.
For my family:  Even those not doing the Whole 30 can eat this.  I may substitute a vegetarian meat for my son but maybe not.  
Thursday:   Greek Bowls
Whole 30'ers:  greek spiced chicken thighs, cauliflower rice, kalamata olives, cucumbers, diced tomatoes (recipe for the bowls will be on the site soon)
For my family:  Same toppings served on top of rice and add feta and yogurt lime sauce.
Friday: Leftovers
Whole 30'ers:  Roasted Sweet Potatoes with leftover Kalua Pig
For the family:  They can have the same thing or leftovers from the rest of the week.  
Saturday: Pan Roasted Salmon
Whole 30'ers:  Pan roasted salmon served with a giant plate of greens, add roasted white potatoes if you are feeling like you really need some extra calories.
For the family: Pan roasted salmon served with brown rice and a side salad.
Sunday: Yankee Pot Roast with Roasted Potatoes and Grilled Asparagus
Whole 30'ers:  No modifications, it's all compliant.
For the family: Everyone else can eat this except for the vegetarian.  Might need to make him his own special dinner, most likely, bean burritos.  
Emergency Foods:
Roasted Cauliflower and Bacon:  Seriously, this is one of the best things I make.  Roasting the cauliflower makes it sweet and the bacon just makes it all better.
Kombucha:  My go-to!  When I do the Whole 30, especially the first 10 days, I always have kombucha.  It helps me with my sugar cravings.
Grilled Chicken:  On Sunday, I will prep a huge batch of grilled chicken.  This is for emergencies when an apple just won't satisfy me.
Sweet Potato:  I know that the carb cravings can be pretty intense.  Sweet potatoes seem to help me with them.  They are filling and provide just the right amount of starch.
Larabars:  I like to have a few around, just in case.  I do have a recipe to make them on my site as well.  
Meat Sticks:  I am not into the whole meat stick thing but I may get a couple just in case.  
A few other things:
I just bought a few containers to make prepping my lunches a bit easier.  I know I will be more successful if I plan things out before the week starts.  
I'll be taking my measurements and weight on Sunday morning and then plan to put my scale in the garage.  Don't need it for the next 30 days!
I plan to continue with my CrossFit workouts during my Whole 30.  During my first one, I didn't exercise at all and still had weight loss and other non-scale victories.  We will see how it goes! 
I don't keep track of calories or portions when I do the Whole 30.  If you want to, go ahead but the plan shouldn't feel restrictive.  It should make you feel good.
And, Melissa posted this the other day and I keep thinking about it.  "It is only 30 days!"
You can do anything for 30 days!
Let's do this!