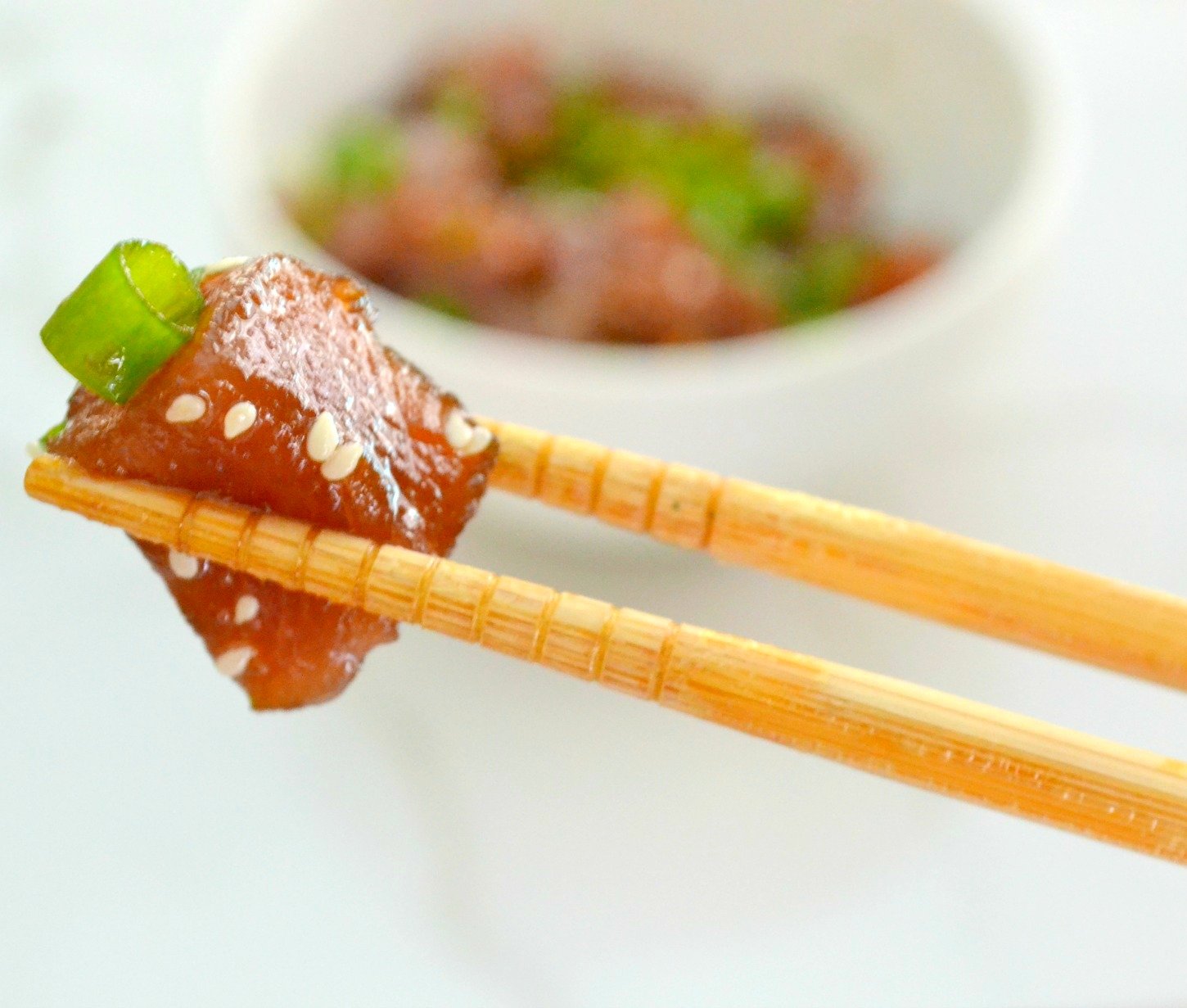 Hawaiian style poke is what we miss most about living in Hawaii. While, poke restaurants are popping up more and more on the mainland, the poke just isn't the same as the traditional poke that you can find in Hawaii. Poke is basically a salad of raw fish, onions, and other ingredients tossed with a sauce made of soy sauce and sesame oil. In Hawaii, poke is served at family gatherings as a side dish; popular to eat with a cold beer after surfing, and on top of warm rice as a Hawaiian style poke bowl.
Since moving from Hawaii years ago, we have really missed the food. If you have never been, Hawaii is a special place and a food lovers paradise. So many cultures come together to create such amazing food. One of the reasons we started this website was to develop the recipes we miss so much and share them with the world. This recipe is one of our favorite ways to make poke and provides a great base for creating different types of traditional Hawaiian poke.
It is very easy to make this homemade version of traditional poke; especially if you live in place that you can find fresh fish. This recipe focuses on making poke using yellowfin tuna or albacore tuna but there are so many varieties of this dish (see options below). In Hawaii grocery stores, you can find varieties of poke made with octopus, blue crab, shrimp, salmon with many different types of sauces. The recipe is also adaptable with the sauce that you add to it. This is a basic recipe for ahi tuna poke but there is just so much you can do with this. Another one of our favorites is spicy tuna poke, which is just as easy to make and tastes great on a bowl of white rice.
The recipe is great for Paleo, Keto, and Whole 30 lifestyles as well as pescatarians.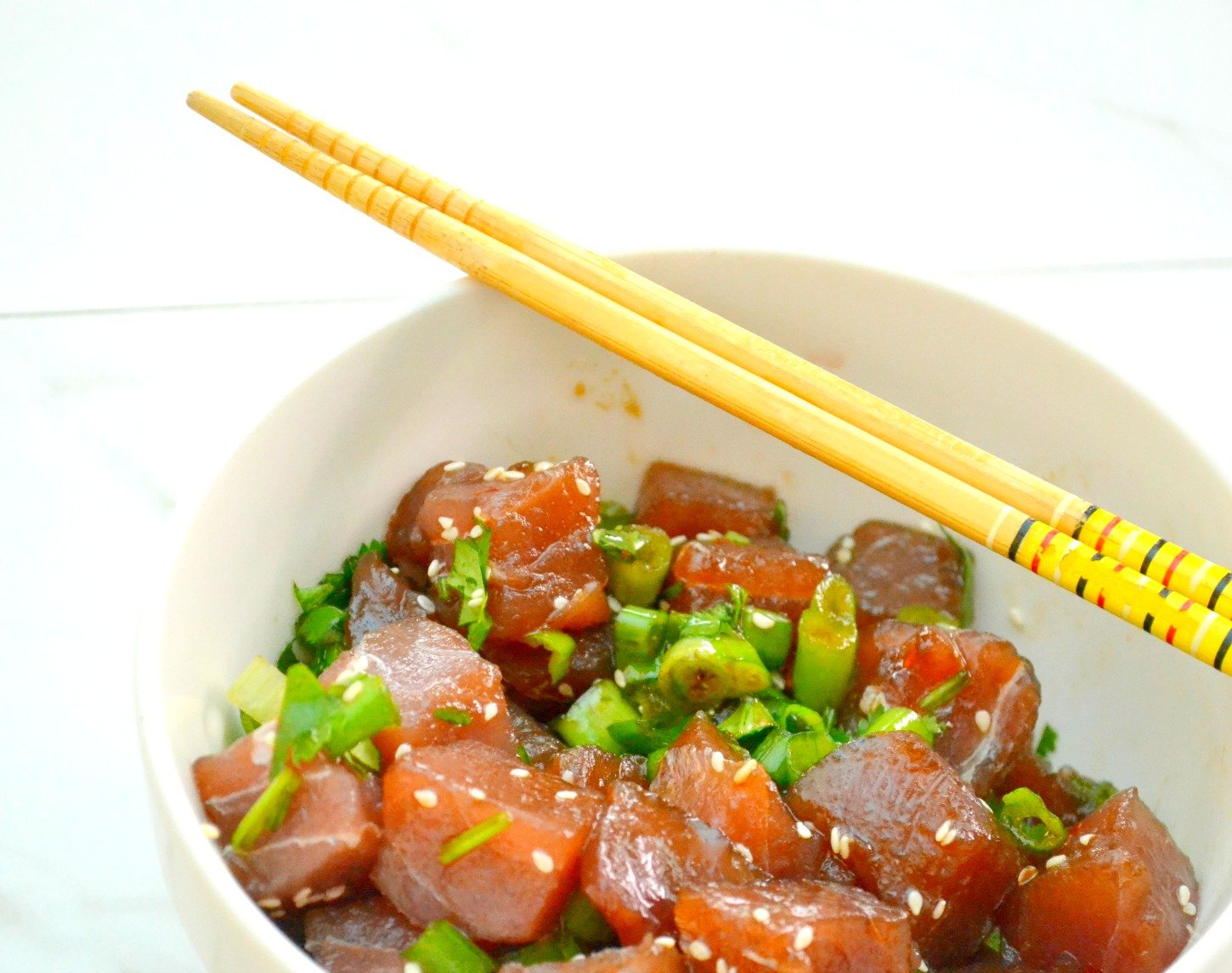 Main Ingredients
Sushi Grade Yellowfin Tuna (fresh or frozen): Find this at premium grocery stores, Asian market, seafood markets.
Sweet Onions
Hawaiian Salt (kosher salt works too)
Red Pepper Flakes
Toasted Sesame Oil
Regular Soy Sauce:
Green Onions
Optional Ingredients: kukui nuts, macadamia nuts, spicy mayo,fresh seaweed.
Depending on where you live, finding fresh tuna might be more of an issue. I've included a few tips below on how to make sure you a buying a fresh and quality piece of tuna.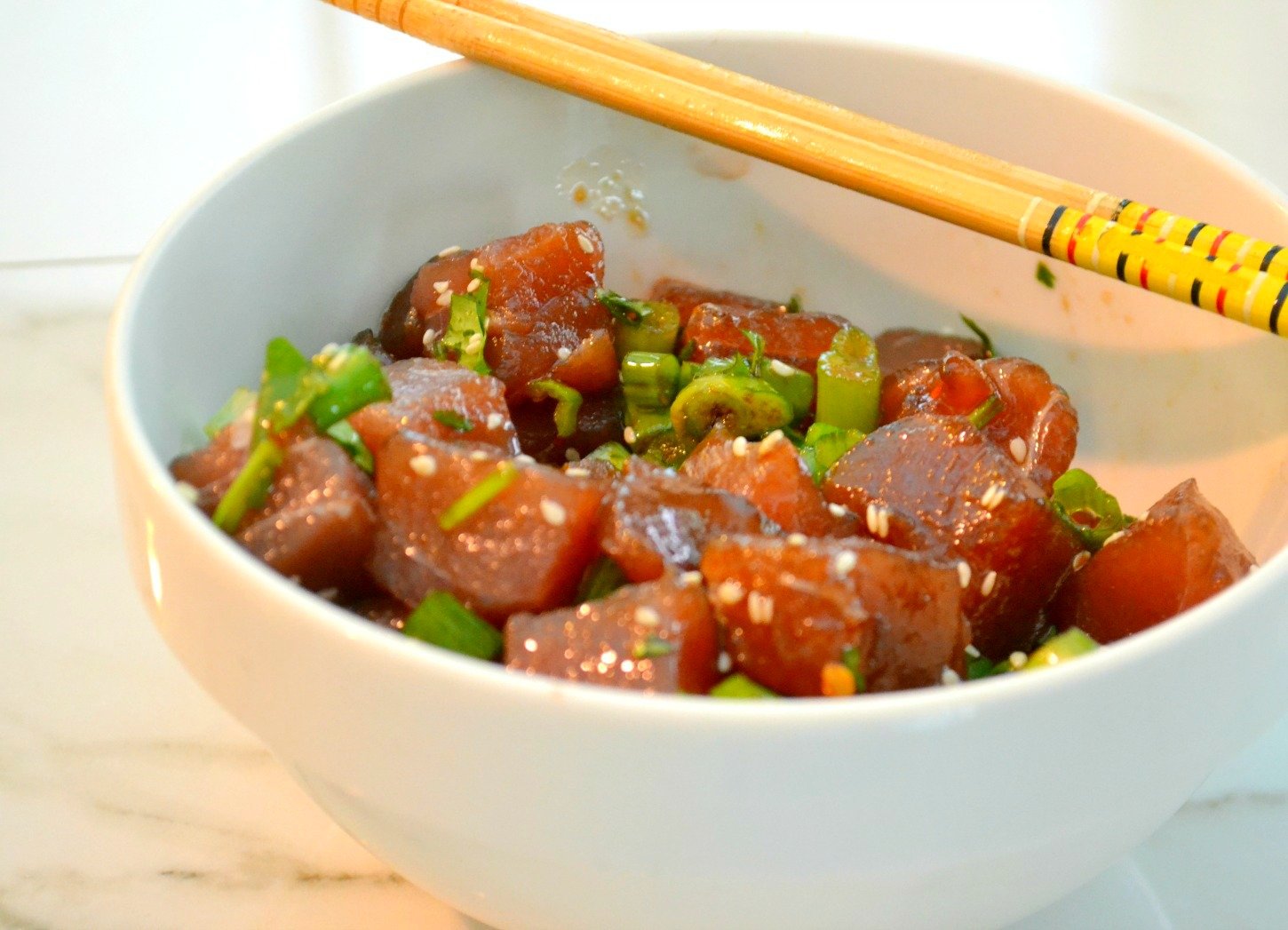 How to Buy Sushi Grade Tuna
1) Color and Appearance.
Tuna is supposed to be pinkish/red. I have seen tuna in fish market and grocery stores that look horrible. Dried out and discolored, but people still buy it. Tuna should not be brownish red or brownish at all. Look for nice moist fish with a pink color.
2) Smell.
Tuna doesn't smell very fishy if it is fresh. If you are at a fish counter, ask if you can smell it before you buy. Don't worry--this is not an odd question. If it smells very fishy, I wouldn't use it for making poke.
3) Labeling.
More and more grocery stores are starting to carry sushi-grade fish. It is usually frozen and can be used to make poke. If you are worried about making sure that you are getting good quality fish, I suggest buying the product that is labeled as sushi-grade.
4) Ask Questions.
I always find out where the fish is caught and when it was brought in. Smaller fish markets will know this information and will gladly share. Bigger grocery stores might not really know or share truthfully---I would always go with a local fish market if you have access to one.
How to Make Poke
Once you have your tuna, you are ready to make your own Hawaiian style poke.
If you are using frozen tuna, let it thaw until it is soft. You will want it to be completely thawed before adding the other ingredients.
Using a sharp knife, cut the tuna into ½ inch or 1-inch cubes, cutting against the grain of the sinewy tissue. I prefer the cubes to be a bit smaller but it is really a preference thing.
Thinly slice a sweet onion. If you can get sweet maui onions, that is even better.
In a small bowl, I combine the thinly sliced onion and tuna with 1 Tablespoon of the sesame oil. Give it a quick toss and let it sit for about ten minutes. This isn't an essential part of the recipe but I think it gives a bit of time for the flavors to meld together.
In a separate bowl, combine the rest of the sesame oil, soy sauce, and red pepper flakes.
​Pour over the bowl of ahi cubes and gently toss together. Sprinkle with a healthy bit of Hawaiian sea salt.
Taste and make modifications as needed. I tend to find that I want mine a bit saltier than others.
Once you have it where you like it, sprinkle with green onions and sesame seeds.  Cover in an airtight container and refrigerate and serve within 8 hours.  
This perfect Hawaiian food  and if you like sushi, you will likely love this too.
​If you like this recipe, check out similar recipes:
​Ahi Tuna Poke Bowls
Shoyu Ahi Poke
Shrimp Poke
Tofu Poke
Octopus Poke
Tuna Poke Recipe
A recipe for basic Hawaiian poke made with raw tuna, amazing spices and fresh flavors.
Print
Pin
Rate
Ingredients
1

pound

fresh tuna

cut into ½ inch cubes

2

Tablespoons

sesame oil

1

Tablespoon

soy sauce

if Paleo, use coconut aminos

1

teaspoon

hot chili flakes

2

teaspoon

kosher salt or Hawaiian rock salt

¼

cup

green onion

1

Tablespoon

roasted sesame seeds
Instructions
Cut tuna into cubes. Cubes should be about ½ inch in size.

Place tuna into a bowl and add sesame oil, soy sauce, hot chili flakes and salt.

Gently give a little stir and taste. At this point, you may want to add a bit more pepper flake, sesame oil or salt.

Once the flavors are where you like it, add green onion and sprinkle with sesame seeds.

Cover and refrigerate for up to four hours.
If you make this recipe, I would love to hear about it. Share your pictures on Instagram, #the_surfers_kitchen