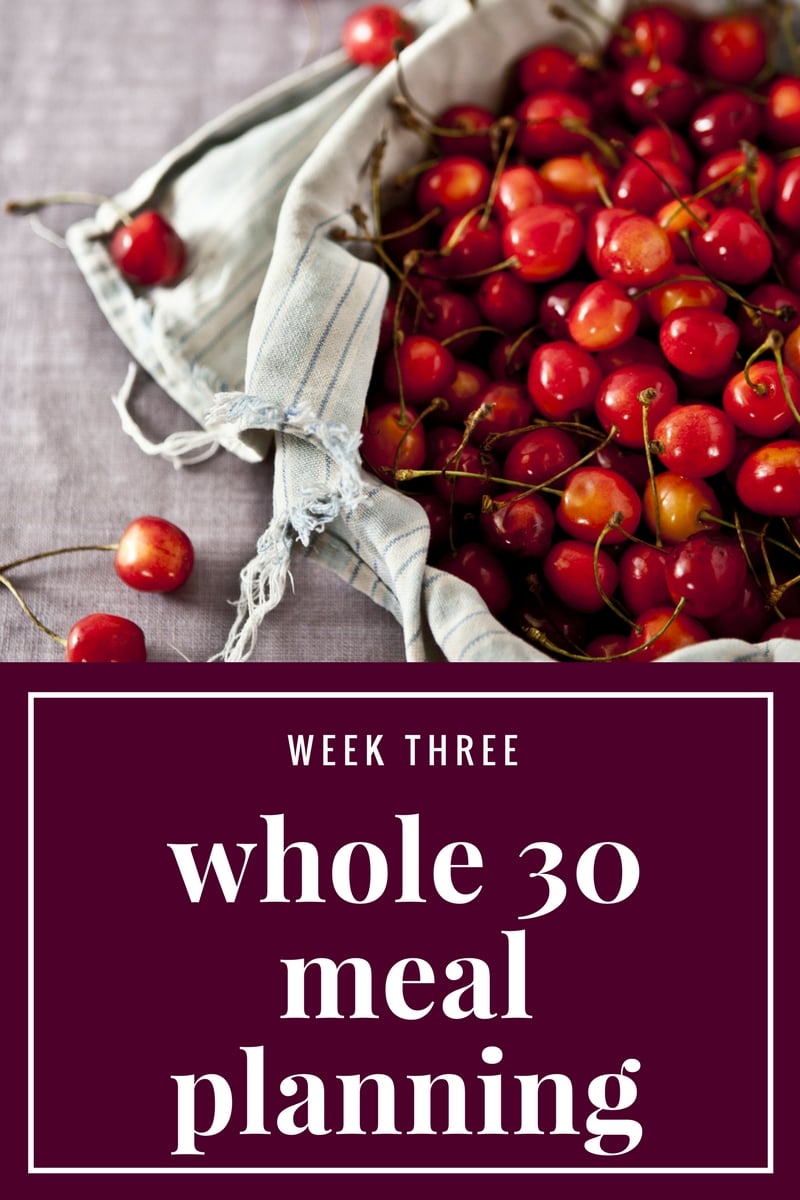 How's your Whole 30 going?  I am not going to lie, Days 10 and 11 were pretty hard for me but I managed to make it through.  There was a plate of bread on our table while dining out and it took a lot of resolve to stop myself from having just a little taste.  I did it though and am now going strong and planning for the next couple of weeks to be a breeze.  Like, I have said before, I would not have success with this if I didn't plan.  Time is always as an issue and without a plan, I start to flounder and then the unhealthy habits win!
I hope these posts benefit you but they really benefit me.  It helps me look ahead to my week and figure out where there might be problems and try to solve them ahead of time.  This weekend, I will be out of town but I have figured out my meals during that time.  The tricky part is figuring out how to get re-supplied for next week after being gone all weekend.  And, I think I have just solved this problem.  I just signed up for Butcher Box and should be getting a shipment of organic, free range meat on Wednesday of next week.  I haven't tried it yet but it sounds great and I am super excited to get my shipment.  If you would like to try it, use this link and you get free bacon all year!
Week 3 Meal Plan
Breakfast:  boiled eggs and compliant bacon; sweet potato breakfast skillet; chia pudding
Monday-
Lunch: Tuna salad Salad (A giant green salad topped with my favorite Whole 30 tuna salad recipe-coming soon)
Dinner:  Clam Chowder
Tuesday-
Lunch: Leftover Clam Chowder
Dinner: Kalua Pig Taco Salad
The family will get tortillas, cheese and sour cream.  Whole 30'ers will add kalua pig to a giant salad with avocados and salsa.
Wednesday
Lunch: Umami Chicken with Salad
I've been making this Umami Chicken every week. It is a great recipe to make a batch of and snack on all week.
Dinner: Chicken Curry with Cauliflower Rice (recipe coming soon)
Thursday-
Lunch: Kalua Pig on Roasted Sweet Potatos
Dinner:  Burgers and Roasted Potatoes
The family will get regular buns and cheese-I will eat my burger with extra avocado and a lettuce bun.
Friday-
Lunch: Lefotvers
Dinner: lunch out, most likely Chipotle
Saturday-
Lunch: Leftover Surprise (check my Instagram story to see what I do)
Dinner: Tuna Nicoise 
One of my favorite salads and works for the whole family.
Sunday-
Lunch: Paleo Chili
(Making a large batch for next week's lunches)
Dinner: Teriyaki Chicken
So excited to try this recipe!