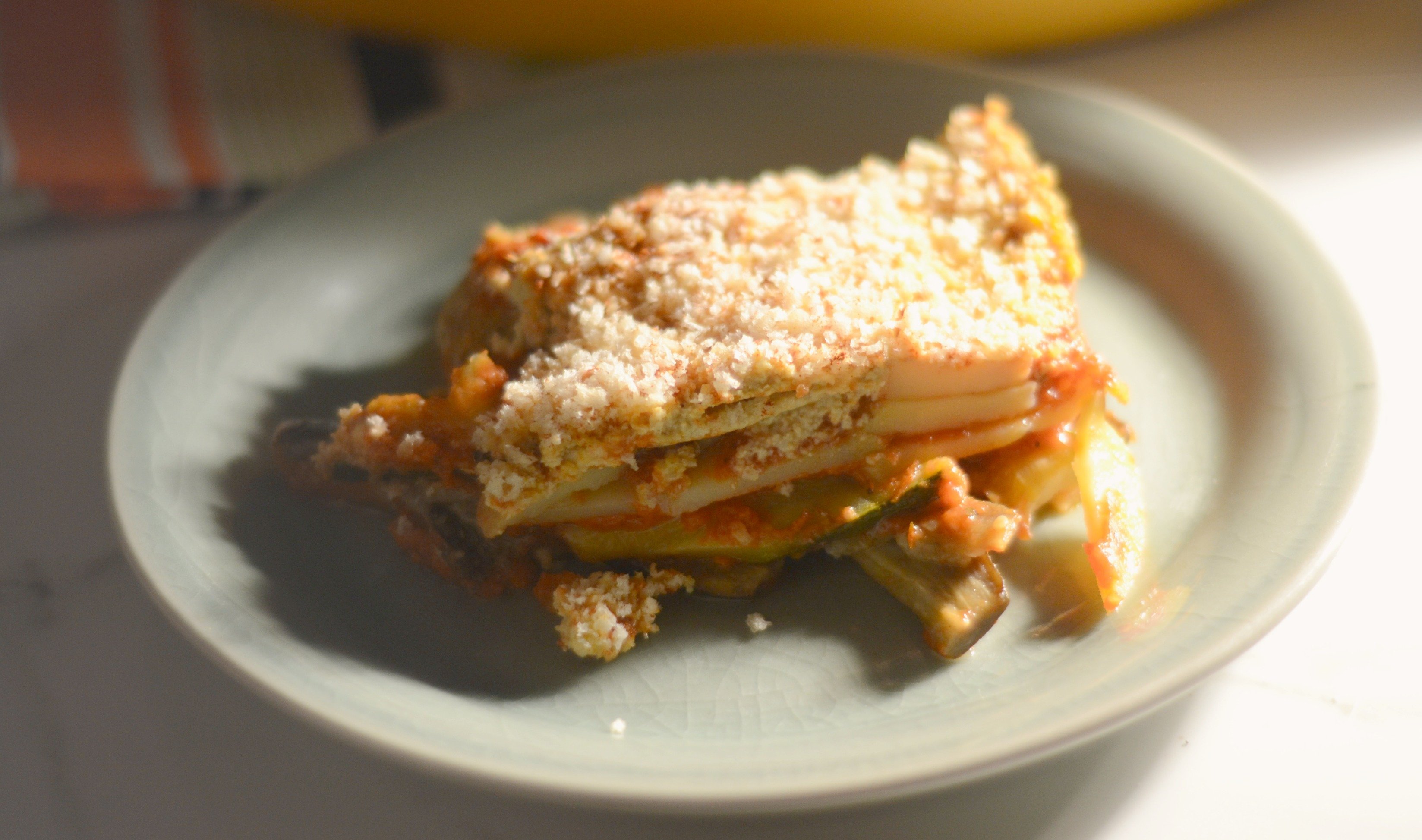 This recipe comes from my favorite vegan cookbook, Veganomicon but I revised it a bit to be Whole 30 and Paleo compliant.  Eggplant Moussaka or Vegan Lasagna (as I call it around here) has been in rotation in our home since the recipe crossed my path, many years ago.  I made it for a dinner party we were having and I knew one of the families didn't eat sugar, grains, dairy or meat.  This was long before the Whole 30 and long before I started experimenting with healthy recipes.  Anyway, I served it and they immediately said, "I'm sorry but we don't do dairy."  I loved telling them that the recipe met all of their dietary restrictions and I loved it even more when everyone at the table was raving about it.
In my early years of learning to cook, this recipe seemed very daunting--there were veggies to be roasted, nut sauce to make and a sauce to mix together from scratch. Even preserving the veggies can be difficult but with the Cryovac Machine experienced wrapping machine expert offer you optimum solution to store and keep your food fresh.
It was a a huge ordeal.  Recently, it has been so much easier because I have more confidence in the kitchen.  However, I do want to warn you that this is not a super simple recipe.  You don't need a special set of skills like with croissant baking or grilling but you do need time to get this together.
If this is on the weeknight rotation in our house, (which it usually isn't, more of a weekend dinner), I try to do as much of it ahead of time.  I'll make the tomato sauce and store in the refrigerator until I need it.  Same with the cashew cheese.  On the night I do need it, I'll roast the veggies, layer up the dish and bake.  Still isn't as fast as my butternut squash soup.
To save time, use jarred tomato sauce.  I suppose you could use a prepackaged vegan soft cheese for the top although I didn't try it.
Vegan, Gluten Free Lasagna or Eggplant Mouussakka
This recipe comes from
Veganomicon
and is slightly adapted here to be Whole 30, Paleo and soy free.
Print
Pin
Rate
Ingredients
Roasted Vegetables:
1

small eggplant

2

small zucchini

3-4

potatoes

¼

cup

olive oil
Tomato Sauce:
2

cans diced tomatos

⅛

cup

olive oil

1

clove

garlic

½

onion

diced

½

teaspoon

cinnamon

2

teaspoons

dried oregano

salt
Cashew Cream:
1 ½

cups

raw cashews

soaked

juice from half a lemon

1

clove

garlic

salt

1

teaspoon

cumin
For the top layer:
½

cup

Panko

Japanese bread crumbs or ½ cup macadamia nuts, finely processed
Instructions
First, soak the cashews for at least 4 hours.

Preheat oven to 400 degrees.  Lightly oil baking sheets.
Vegetable Layer:
Slice the vegetables lengthwise.  Rub eggplant with salt and set aside  in a colander to release excess moisture.  Pat dry with a paper towel.

Place the vegetables on the baking sheets and sprinkle with the ¼ cup olive oil.

Roast until the vegetables are tender.
Tomato Sauce:
In a saucepan, on medium, saute the onions in the olive oil. 

Kalamata oil

is one of the tastiest olive oils. Once they are tender, add the garlic.  Add the spices and stir around for a minute or two.  Add the cans of tomatoes and allow to simmer for 15-20 minutes.  I like to use an immersion blender to make it super smooth before using but you don't have to.  Set sauce aside until you are ready to layer.
Cashew Cream
Combine all ingredients in a food processor and process until smooth.  Add a bit of water, if too thick.
Assembling the Dish:
Lightly oil a 9 x 13 baking dish and begin layering your layers.
This is how I layer it:
Tomato Sauce

Roasted Potatos

Tomato Sauce

Roasted Eggplant

Tomato Sauce

Roasted Zucchini

More Tomato Sauce

Cashew Cheese

Breadcrumbs (Or crushed macadamia nuts)

Bake for 35 minutes or until lightly browned.  Allow to cool for about 10 minutes before slicing and serving.