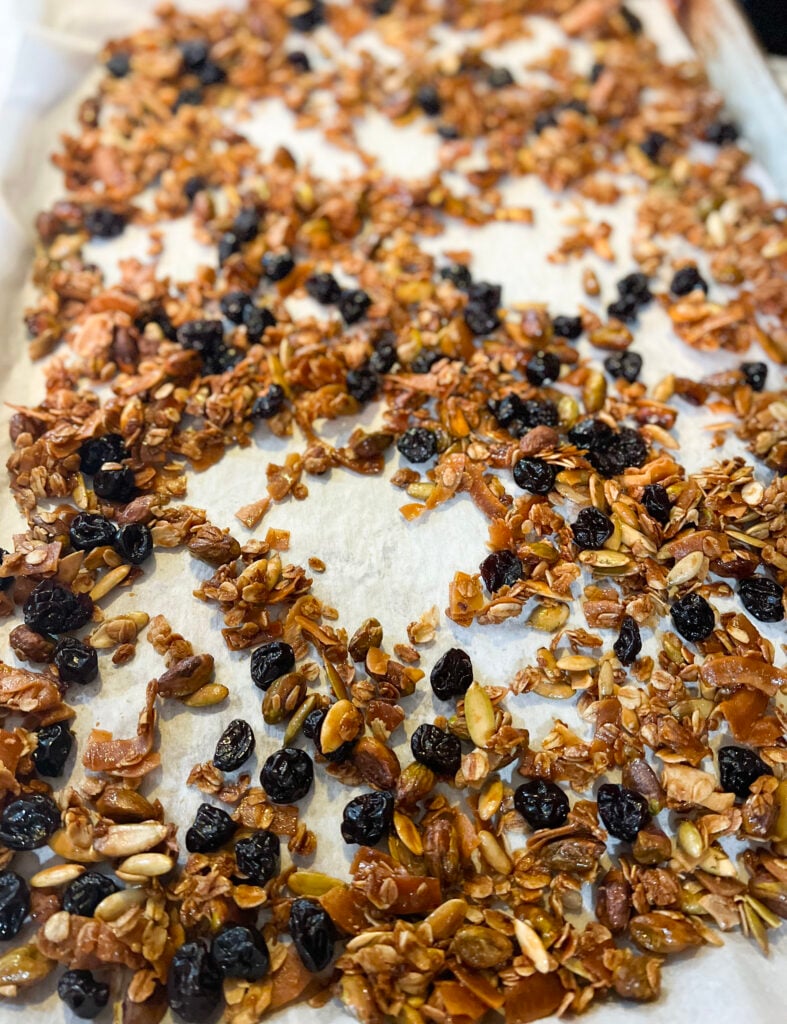 Jump to Recipe
We eat a lot of granola around here. It is a perfect whole food snack that we all like. At one point, we imagined opening a granola business so that we could share our creations with the world. That didn't happen. Instead, we like to experiment with granola recipes as much as possible.
This granola recipe started with the Essential New York Times Cookbook recipe for Eleven Madison Park Granola. I have never been to Eleven Madison Park (a well known plant based restaurant in NYC) but I have added it to my "places to dine list".
Just reading the recipe for Eleven Madison Park granola, I knew this would be a good one. My version of the cherry and pistachio granola recipe is modified slightly to be refined sugar free. I basically just removed the brown sugar and upped the maple syrup. I made a triple batch because I know how fast we will go through it.
This granola is next level amazing. Dried cherries, coconut flakes, pistachios and just the right amount of sweet and salt might make this granola recipe one of the best I have ever tasted.
I usually top my yogurt parfaits with granola but this one was almost too good to be mixed up with other flavors. We enjoyed it warm out of the pan and cooled off straight out of the pan. Honestly, it didn't last long.
Ingredients
Dried Cherries: The original recipe calls for dried sour cherries which I wasn't able to find. I used sugar free dried cherries for the perfect amount of tart.
Coconut flakes: I used Dang Coconut Flakes and they offered such a perfect crunch.
Pistachios: I think this may be the ingredient that elevates this to next level. It was a bit tedious to shell each of them so if time is an issue for you, I suggest buying them pre-shelled.
Salt : Have I even mentioned my love affair for really good salt. My favorites these days is Maldon Sea Salt but if you want something that you can find anywhere-- Morton's Kosher Sea Salt.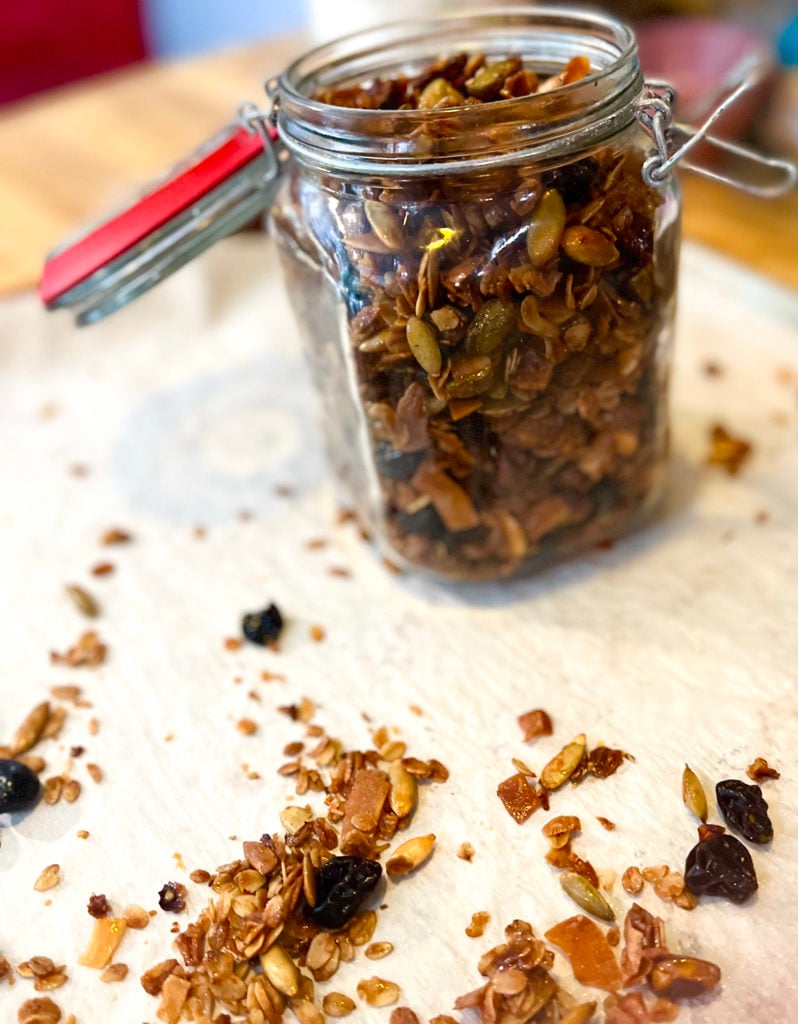 Making the Granola
Granola is actually quite simple to make. It really is just combining the wet ingredients (maple syrup, oil, vanilla) and then tossing the dry ingredients together. You spread it all out, trying to give the clumps some space. The oven really does all of the magically work.
I made a little video if it helps to see the process.
How to Use Granola
Straight Out of the Pan for a quick and healthy snack
Add to trail mix for a hiking treat
Topping for yogurt parfait or maple ice cream
And, my favorite: in a bowl with some almond milk.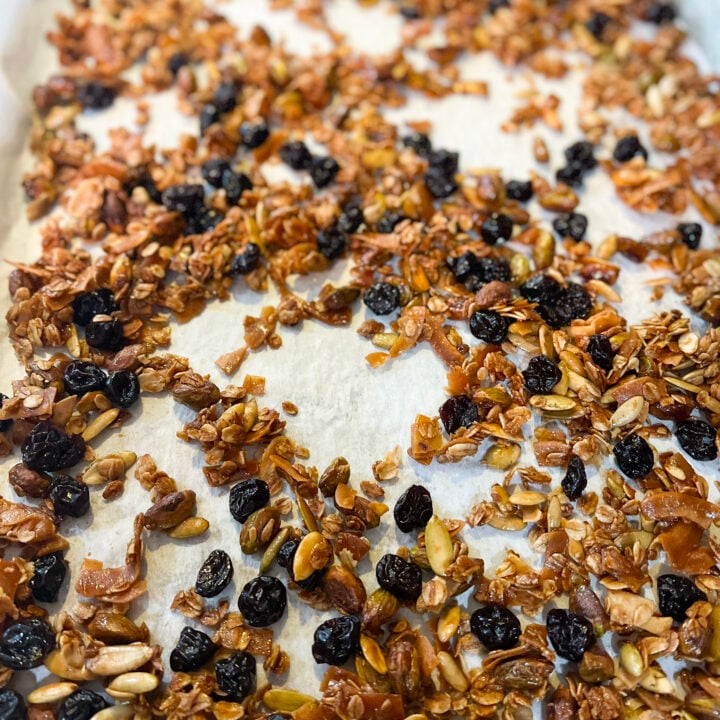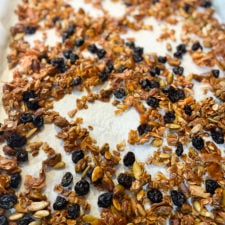 Pistachio and Cherry Granola Recipe
A slightly modified version of the Eleven Madison Park granola.  
Print
Pin
Rate
Ingredients
5

cups

rolled oats

2

cups

shelled pistachios

1 ½

cups

unsweetened coconut chips

⅔

cups

green pumpkin seeds

pepitas

1 ½

Tablespoon

kosher salt

1

cup

maple syrup

⅔

cup

extra virgin olive oil

1

cup

dried cherries
Instructions
Preheat oven to 300 degrees.  Line a baking sheet with parchment paper. 

In  a small saucepan, heat the maple syrup and olive oil until combined.  

In a separate bowl, toss together oats, pistachios, coconut chips, pumpkin seeds, and half of the kosher salt.  

Gently fold the maple syrup mixture into the dry ingredients.  

Spread the granola on the baking sheet.  

Bake for about 40 minutes.  You may need to stir a few times during the 40 minute baking time. It will be done when it is dry and golden.  

Add the dried cherries to the granola once it is pulled from the oven.  Allow all to cool before transferring to a storage container.  
Notes
I sprinkled a bit of salt on the finished product but I prefer my granola to be on the saltier side.  Skip if you prefer less salt. 
Other Granola Recipes
Cashew Butter and Chocolate Granola