You may have noticed that other food blogs have been all about Thanksgiving for a month or more and over here I haven't posted very many Thanksgiving related dishes ( I did post Grandma's Macaroni and Cheese , wasabi mashed potatoes, and instant pot apple cider .  Plus, I  have a good sweet potato recipe coming up).  Call it poor planning, or overwhelm, I suppose.  I just haven't really been thinking that much about Thanksgiving.  BUT--this recipe for our easy homemade cranberry sauce was developed and photographed last year!  I have been waiting all year to post it.  See--I am a good planner!
I made this simple recipe for our Thanksgiving dinner last year and the kids loved it so much that I made it a few more times before the cranberry season ended.  We used it to top everything---the typical leftovers topped with a bit of cranberry, a giant salad with goat cheese and a bit of cranberry, vanilla ice cream with a bit of cranberry.  See what I mean?  Cranberry doesn't need to just be a side member of the holiday table.  It needs a chance to shine.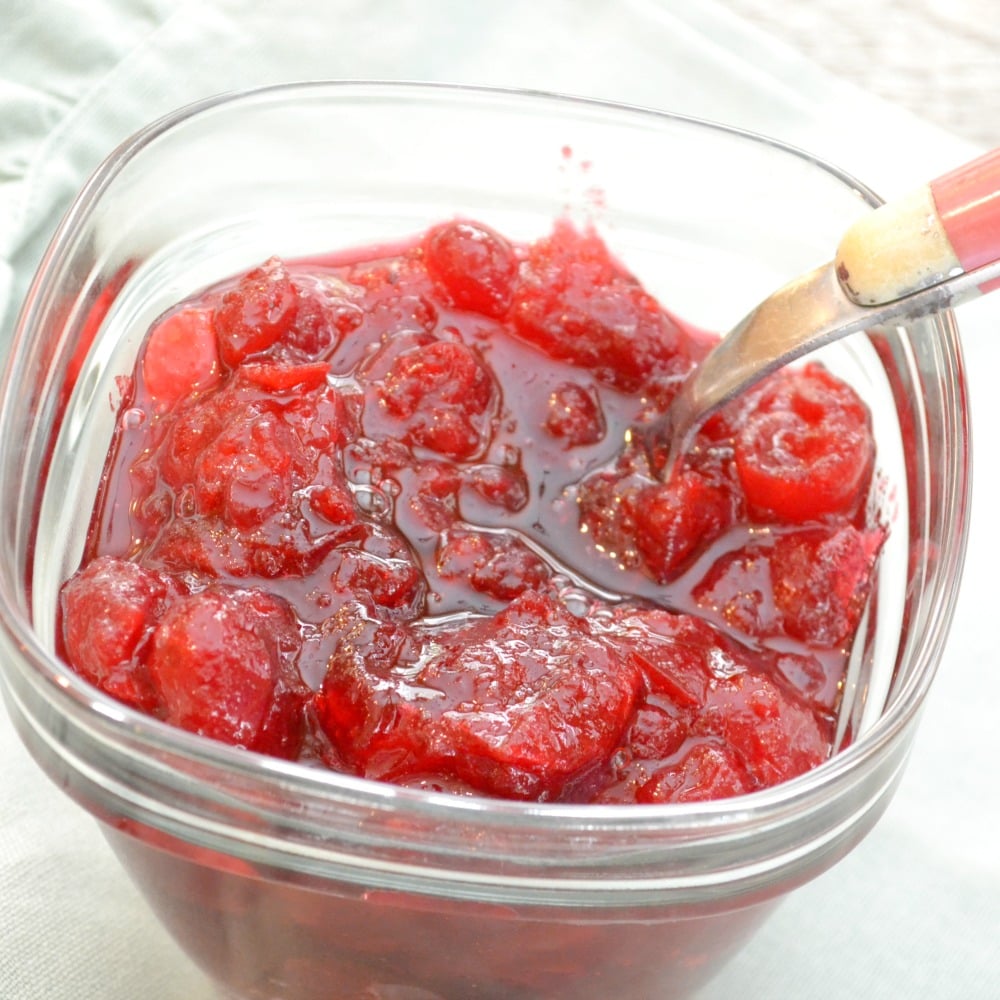 I know some people have to get their cranberries in the can.  That the holidays just aren't the same without that gelatinous maroon tube.  I get it--traditions are important.  But, traditions can change too and the only way to change is to try something new.  I urge you, even if you are one of the canned cranberry people, to add this to your table too.  Do a taste test--see what you think.
This is a recipe from my mom--meaning that it takes so little time and is so easy that even my mom can make it.  My mom is a woman that really dislikes cooking and really only has a few recipes that she rotates between.  This is one of those recipes.  She makes this weekly as soon as the cranberries start to appear at the grocery store.
If you are adding this to your holiday table, feel free to make it a day or so ahead of time.  It stores well in the refrigerator.
I hope you enjoy it as much as our family does!
Easy Homemade Cranberry Sauce
Even if you prefer to have the canned cranberry on your holiday table, I encourage you to give this a try.  It is a tart yet sweet version that goes great on everything.
Print
Pin
Rate
Ingredients
1 12

ounce

bag of cranberries or about 3 cups

⅔

cup

sugar

1

teaspoon

orange zest

⅓

cup

orange juice or water

1

teaspoon

cinnamon
Instructions
Add all ingredients to saucepan and cook on medium heat.

As everything warms up, the cranberries will start to pop a bit.  Cook for about 15 minutes until it starts to thicken a bit.  It will thicken up more as it cools.