I think that chocolate chip cookies may be my all time favorite dessert.  On this blog, I have posted three different versions of them including a vegan recipe, the famous Momofuku and the NY Times best cookie ever.   If you look through some of my breads and muffins, I am always adding chocolate chips.
Who invented chocolate chips?  They are perfection!
This recipe for deep dish cookie pie comes from Chocolate Covered Katie's blog.  Not only are these vegan and gluten free--they have a bit of extra fiber thrown in----(shhh....there are beans in these).
I tried to make her cookie dough dip at Christmas and was not impressed--I kept thinking it was hummus with chocolate chips thrown in.  I was a little apprehensive with these for that same reason but....I was pleasantly surprised.  Fortunately for me, no one else was brave enough to try these and I ate the entire pan alone.  But, they are healthy, right?
My dad is going to be celebrating my grandpa's 85th birthday this weekend and I am begging him to make these.  His side of the family consists of All American folks--Pepsi, Doritos, and maybe some Costco potato salad-I would love to see if these can get snuck into the party dessert table.  I expect that they will get snatched up at the party!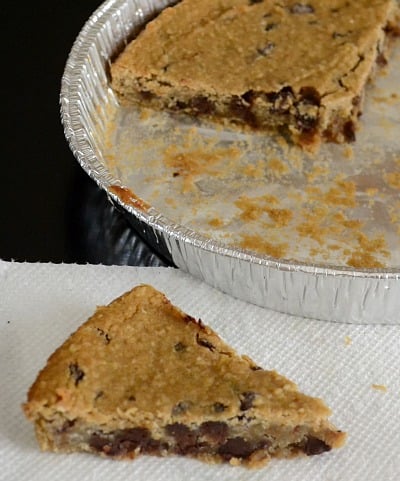 Healthy Cookie Pie
Ingredients
¼

cup

oats

1

can garbanzo beans

2

tablespoon

coconut oil

1

teaspoon

vanilla extract

¼

teaspoon

baking soda

1

teaspoon

baking powder

tiny pinch kosher salt

¾

cup

brown sugar

1

cup

chocolate chips
Instructions
Preheat oven to 350 degrees. Prepare an 8 inch pie pan with cooking spray or a light rubbing of oil.

Add all ingredients except the chocolate chips to a fancy food processor. Blend well. Really well. You don't want this to be chunky. At all.

When it is well blended, mix in the chocolate chips (DO NOT USE THE FOOD PROCESSOR for this step.)

Pour into pie dish and bake for 35-40 minutes.