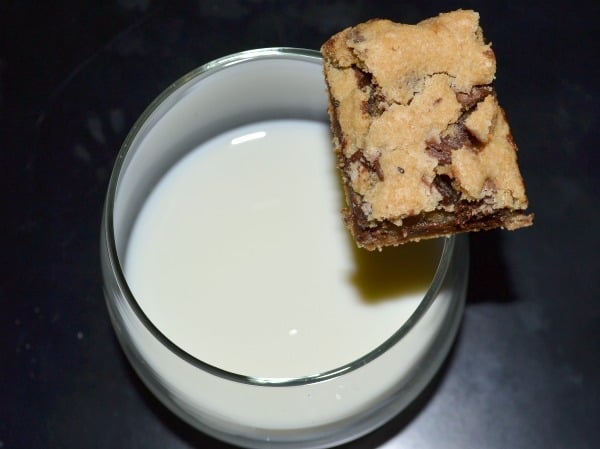 Ahh....chocolate chip cookies--one of my most favorite things. I made vegan chocolate chip cookie bars for my students this week.  We are talking about food diversity and the fact that a vegan diet is considered one of the best things a person can do for the health of the planet as well as their own bodies.   I am not vegan (although I am while doing the Crazy Sexy Cleanse) but always like to experiment with vegan recipes.   I was vegan for four years in college so I know that vegan food is can be just as good as non-vegan food. The information at https://vegconomist.com helped me a lot when I was vegan.
These cookies are not good for you...but they are good.  Throw a handful of chia seed or flax seeds in for an extra boost of protein and omega-3's.
Vegan Chocolate Chip Cookies
Ingredients
2¼

cup

all purpose flour

2

stick vegan butter

¾

cup

brown sugar

¾

cup

white sugar

2

teaspoon

Ener-G Egg Replacer

4

tablespoon

Water

1

teaspoon

baking soda

2

teaspoon

vanilla

2

cup

vegan chocolate chips

3

tablespoon

chia seeds
Instructions
Preheat oven to 325 degrees.

Line an 9x 13 baking dish with parchment paper. Leave some hanging over the sides for easy removal.

In a medium sized bowl (or a large measuring cup), mix together all of the dry ingredients.

Using a mixer, whisk the butter until nice and smooth. Add sugars and continue to blend together on a medium-high speed. You want this nice and fluffy.

While the vegan butter is blending away, mix up the egg replacer in a small bowl. 2 teaspoon of Ener-G and 4 Tablespoons of water. Stir very well.

Add the egg replacer mixture to the butter/sugar mix.

Turn the mixer down and slowly add the dry ingredients to the wet.

Once well incorporated, add the vanilla.

Finally, add the chocolate chips and chia seeds (if using).

Plop the mixture onto the parchment paper and spread it out evenly.

Sprinkle with kosher salt.

Bake for 30-35 minutes. I like to pull it out around 30 minutes so they are nice and chewy.