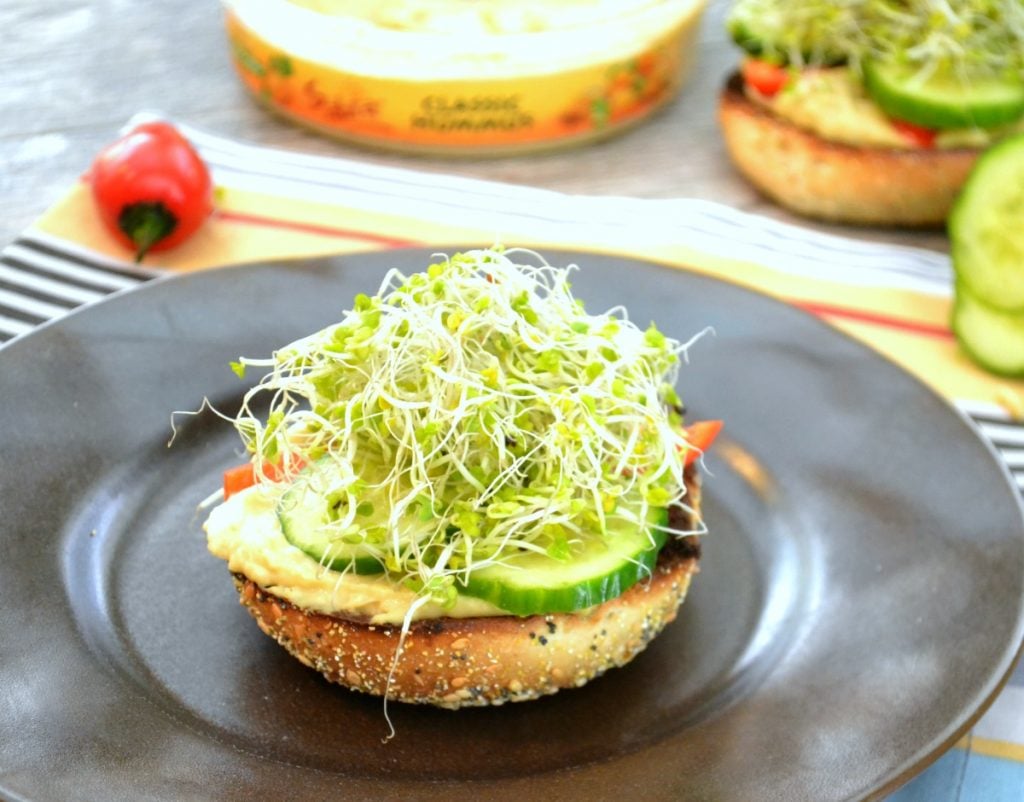 When I was about 16, I started hanging in the punk and indie music scene in Olympia, Washington.  If you didn't know, the Olympia punk scene in the 1990's was really exciting and a very special time.  There were amazing bands coming out of our little town, music festivals and touring bands passing through all the time.  As a wide-eyed high school girl, I had no idea that our town had so much to offer and once I found out about it quickly started spending all of my time downtown with my friend Sarah, Kristi, and Sash.
I spent all of my money on records and went to so many shows I would never be able to count them all.  I was so lucky to work at the State Tri Theater which somehow ended up being the center of the scene.  The theater was right downtown, staffed by punks and each and every night something fun would happen.   I would regularly go to house parties with members of bands like Bikini Kill, Unwound, Beat Happening, Kicking Giant,  KARP, and so many others.  Most people will have no idea who these bands are or why they were so important to me  but for those of you lucky enough to be around Olympia during that time, you will get it.
Anyway, one of my FAVORITE bands, Beat Happening, had a song  about going to The Smithfield Cafe.  At the time,  this cafe was for older scenesters to hang out, drink coffee and philosophize.   I was kind of scared to go there because everyone was SO COOL but I timidly walked by everyday on my way to the record store.
Finally, my friend Shawn invited me and with his older and more status-ed position in town, I felt comfortable enough to go.  I tried my very first cup of coffee there and hated it but I dumped tons of honey in it and tried to drink it.  It was all about appearances.
Hummus Bagel Sandwich
Eventually, my friends and I would just go on our own as we were all vegan and they had great vegan options.   My favorite items on the menu were the hummus burrito (huge garlic filled gut bombs) and the hummus bagel sandwich.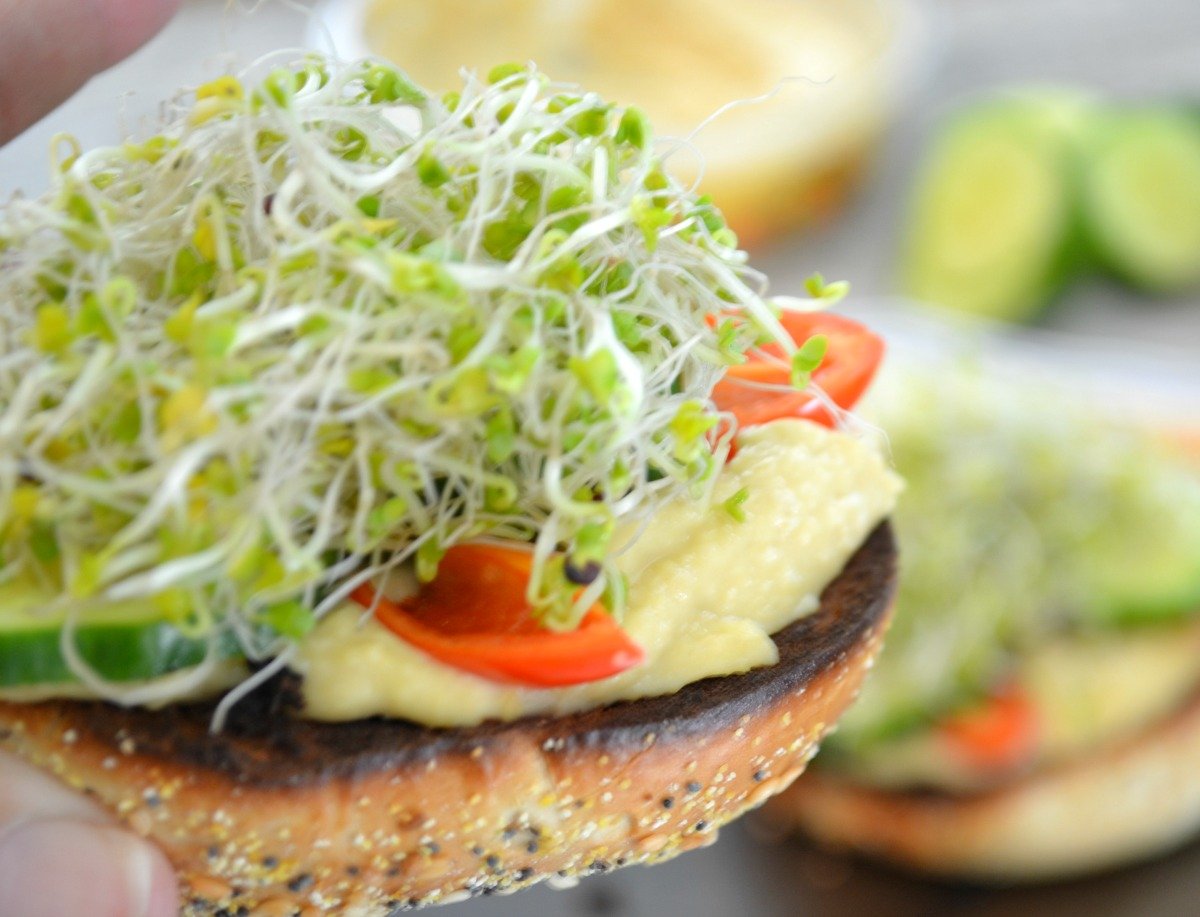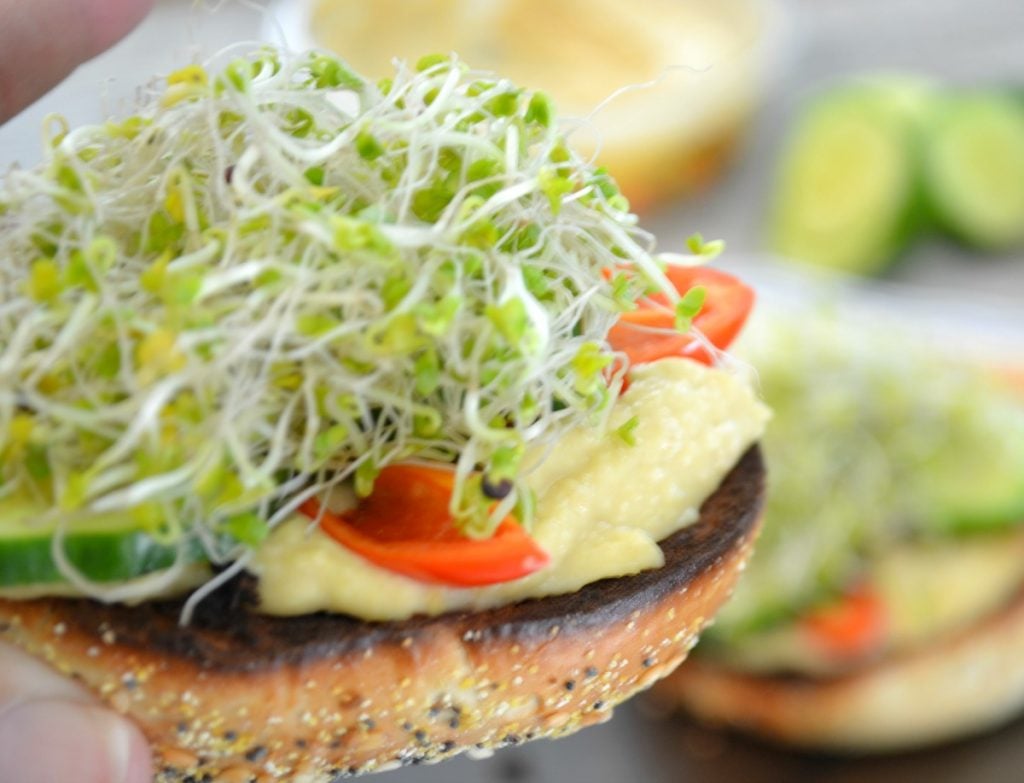 With healthy eating, nostalgia and Beat Happening on the mind, I decided to make these for lunch last week.  Just as I remember them, with just a bit less garlic.
The key really is the toasted bagel and the sprouts.  The toasted bagel gives it needed crunch and the sprouts just tone down the acidity of the hummus.
Soundtrack: The Best of Beat Happening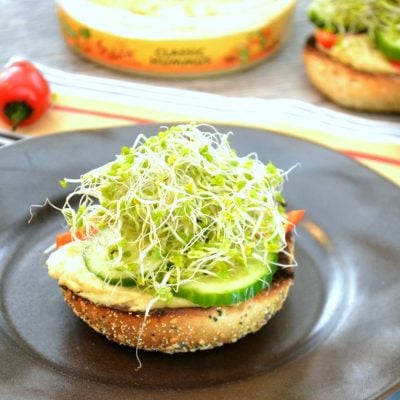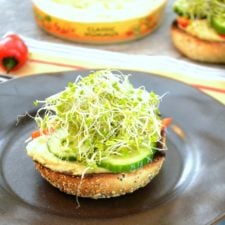 Hummus Bagel Sandwich
Inspired by the Olympia, Washington indie music scene in the 1990's, and of course, The Smithfield Cafe.
Print
Pin
Rate
Ingredients
everything bagels

toasted and split

hummus

sliced tomato or sliced red pepper

or both

alfalfa sprouts
Instructions
Split and toast the bagels to desired toastiness.  I like them a little dark.

Spread a thick layer of hummus on each side of toasted bagel.

Top with sliced tomato and a pile of sprouts.
Notes
I used red peppers instead of tomatoes because that is what I had on hand.  The original had tomatoes.  But the red pepper is just as good.