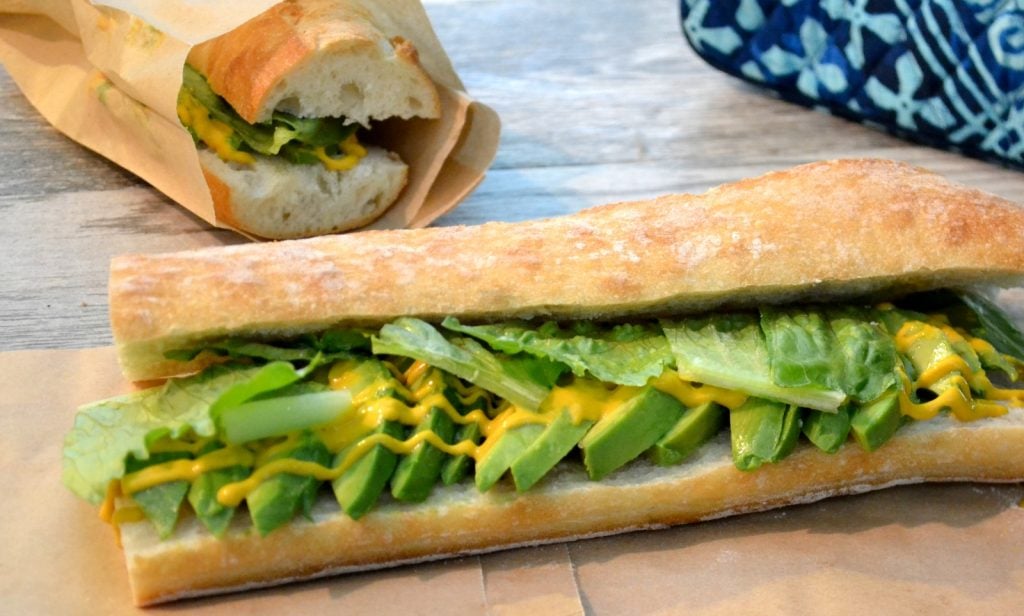 My boyfriend in college introduced me to these lettuce and avocado sandwiches. And, though they might not sound like much, believe me, they are the best. Or maybe, I just love them because of the nostalgia behind them. Not sure.
I went to college in Bellingham, Washington and after studying  would meet up with my boyfriend for really long night time walks, usually to the train tracks in Fairhaven.  I have a slight obsession with trains.  One particular night, we had some extra money and we stopped at the grocery store for avocados and baguettes.  I don't know why  but I still have such a distinct memory of that experience.   I can almost feel the cool air on my face as we sat on the ground, near Bellingham Bay, listening to the trains pass while we assembled our lettuce, avocado and mustard sandwiches.  We had a pocket knife to slice up the avocado and an old black sweatshirt to use a tablecloth, plate and napkin.  It was cold but we were happy.  We had our sandwiches, each other and the trains.   It may have been my first ever romantic, punk rock, picnic dinner.
Later, the same boyfriend and I made a spring break trip on Amtrak (trains!) to Tuscon, Arizona, to visit thrift stores, record stores and just walk around in the sun.  We had no money  but had enough for some bagels and avocados.  We raided the food car on the Amtrak for mustard and relish packages to add a bit more variety to our meals.
Lettuce. Avocado. Sandwiches.
These sandwiches have been part of my history for a very long time. As you can see, they are a testament to my never ending love of trains. I get so nostalgic just thinking about them.
Try an avocado, lettuce and mustard sandwich. Loaded with avocado, crisp romaine lettuce and tangy mustard, you really won't miss anything. These days, I seek out the best baguettes I can find and really make sure I get the crispest pieces of lettuce. I like each bite to really have a crunch.
If you are feeling so inspired, enjoy by the railroad tracks--have your own punk rock picnic.
Musical inspiration: Beat Happening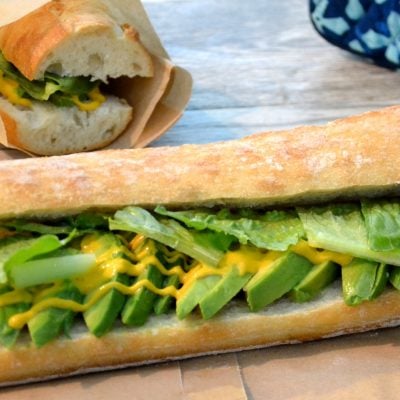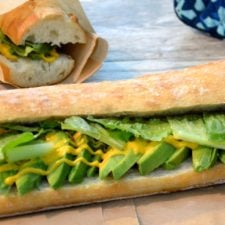 Lunch Ideas: Lettuce and Avocado Sandwich
One of my favorite vegan sandwiches!  It is so simple yet so good!
Print
Pin
Rate
Ingredients
½

fresh baguette

1

avocado

pitted and sliced thin

romaine lettuce

leave ribs in tact

mustard

to taste
Instructions
Slice baguette in half.

Top with avocado slices, romaine lettuce and mustard, to taste.

Enjoy!