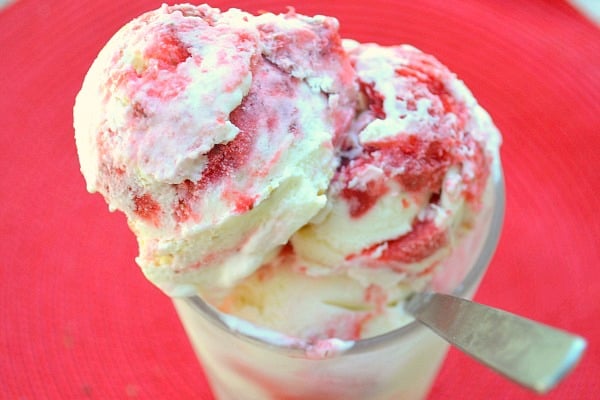 There is the little ice cream shop here, in the Amish part of town called, Big Olaf's.  Big Olaf's has very good strawberry cheesecake ice cream, according to Aaron.  A couple of months ago, Aaron stopped by there with Nova to get a scoop of ice cream each but unfortunately, Big Olaf's only takes cash.  And, Aaron only had enough for one scoop.  So, poor Nova was sad and watched as Aaron ate his ice cream. If people want toronto appliance repair for their kitchen appliances, they can check here
Just kidding.  Nova got her scoop of something bright and Aaron sat there watching her eat.
When he came home and told me the story, I immediately decided that I needed to make him some of this strawberry cheesecake ice cream.  So I did.  And it was eaten before I could snap photos.
So, I made some more.
And it was excellent.
Do you want to make it yourself?  You should.
Don't let the three steps scare you off--it actually comes together pretty easy.
If you chose to make it with blueberries instead of strawberries--go ahead!  You may want to add a tiny bit more sugar to the sauce though--I would go with about ½ cup of sugar to 2 cups of blueberries.
Strawberry Cheesecake Ice Cream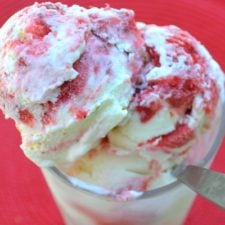 Ingredients
Ice Cream Base

8

oz

cream cheese

1

lemon

1

cup

sour cream

½

cup

half and half

⅔

cup

sugar

pinch

Kosher salt

Graham Cracker Crust Add In

2

cup

graham cracker crumbs

¼

cup

butter

2

heaped tablespoon sugar

Strawberry Ribbon

2

cup

strawberries

¼

cup

sugar

1

teaspoon

lemon juice
Instructions
The Ice Cream Base

Add cream cheese, sour cream, half and half, sugar, zest of the lemon and salt to the blender.

Puree until smooth.

Chill mixture in the refrigerator and then freeze according to manufacturers instructions.

Graham Cracker Crust Add-In

Mix graham cracker crumbs and sugar in a shallow pie pan.

Add melted butter and push down until flat.

Put in the freezer or refrigerator until hardened.

When needed, break up the graham crackers to add to the ice cream.

Stawberry Ribbon

Cook strawberries in sugar until they begin to release juices, about 15 minutes.

Set aside to cool

Final Ice Cream Step

When removing the ice cream from the ice cream maker, pack it well into an air tight container and place in freezer.

After about an hour, the ice cream should be hard but not too hard. Now, we add in the goodies. Gently crumble the graham crackers into the ice cream-mixing them in but not too vigorously. Add the strawberry sauce in ripples. Do not stir the sauce in--as it will discolor the whole batch of ice cream.