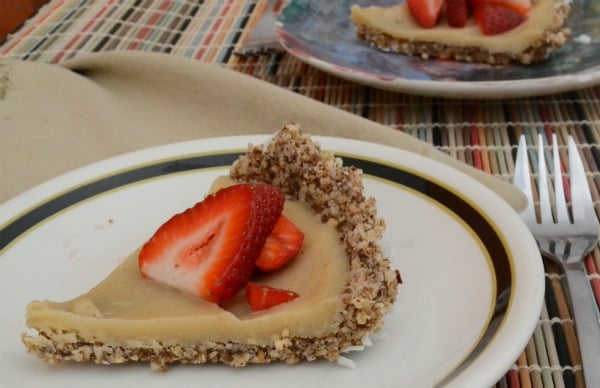 Sometimes raw vegan cheesecake just needs to be made.  Especially when your gluten free, vegan nephew comes to say for the weekend.  Can't let him suffer in silence while the rest of the family eats treats.  Do you have a food restricted eater coming to town and want to wow him/her?  Make this!  All of my non-vegan, non-health conscious friends loved it and thought it tasted just as good as regular cheesecake.  I also thought it tasted like regular cheesecake and but since I'm not the biggest fan of cheesecake, I didn't love this as much as everyone else.  I much prefer this type of dessert.
BUT--it is so simple to throw together.  And, since there is no baking involved you can get this done and in the fridge to chill in lightening speed.
Not to mention, it is good for you.  It is Raw, Vegan, Gluten Free and Sugar Free!
Let me know what you think if you make it.
Raw Vegan Cheesecake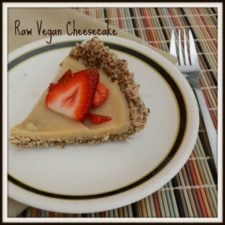 Ingredients
Crust

1.5

cup

hazelnuts

½

cup

dates

¼

cup

unsweetened coconut

Filling

3

cup

cashews

¾

cup

lime juice

¾

cup

agave nectar

or honey

1

tablespoon

vanilla extract
Instructions
Prepare a 8 inch pie dish by spraying a thin coating for cooking spray and then sprinkle with the shredded coconut. No need to turn on the oven--this is a RAW recipe!

Soak the cashews and hazelnuts in separate bowls of water for 10-30 minutes.

Crust

In a food processor, process the dates and hazelnuts until the consistency is similar to coarse graham cracker crumbs.

Press the mixture on top of the coconut layer in the pie pan. You will need to be careful that it is the same thickness all the way around and you should have enough for the crust to continue up the edges of your pie pan.

Filling

Process the remaining ingredients together: soaked cashews, lime juice, agave and vanilla extract. This mixture should be pourable. If you need, you can add a couple of teaspoons of water for the right consistency.

Pour into the crust and chill for at least 1 hour.

We topped ours with fresh cut strawberries but you could do whatever your heart desires as far as toppings go. Just keep it healthy!