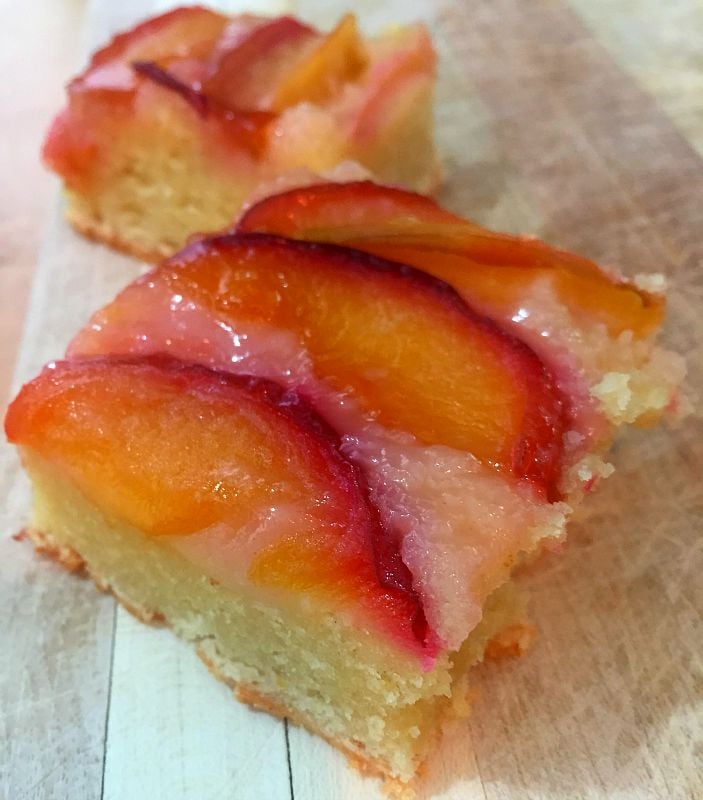 What to do with a surplus of plums? Make plum cake!
I had a lot of plums from a recent impulse buy at the local farm stand and no one really wanted to eat them.  They had been picked just before peak ripeness and really didn't have that great, straight from the tree, plum taste.  As a kid, our neighbor had these little black plums and we would eat them by the handful (with aching bellies later) and they were so sweet.  I don't think I have had a plum like that in many years.
Instead of letting them go to waste, I added some sugar and made them into a little breakfast cake.  The cake itself isn't very sweet at all so the buttery cooked plums really compliments it.
The cake is pretty simple to make--basic ingredients, no fancy techniques.  I didn't let the cake rise the second time for as long as I could have and might add a bit more rising time next time around.
Hope you enjoy!
Plum Cake
A nice easy cake to serve for breakfast or snack that helps use up the season's plums.
Print
Pin
Rate
Ingredients
2 ¼

teaspoons

active dry yeast

¼

cup

warm water

2

cups

plus 2 tablespoons ) all-purpose flour

divided

1

cup

sugar

divided into ⅔ and ⅓

½

teaspoon

salt

½

cup

plain whole-milk yogurt

1

large egg

at room temperature

1

teaspoon

vanilla extract

1 ¼

tablespoons

sticks unsalted butter

cut into and softened, divided

about 4 small plums

sliced
Instructions
In mixing bowl, sprinkle yeast on top of the warm water. Let sit for about five minutes.

Add ⅔ cup of sugar, yogurt, salt, egg, vanilla and flour to the yeast mixture. Mix until it comes together.

Increase the speed of the mixer a bit and add one tablespoon of butter at a time until you use up the full stick. Save the ¼ stick for later. Once the butter is well incorporated, set it aside and cover it for about two hours. When you come back the dough should have doubled in size.

Using an 8X8 baking dish, smear the ¼ stick of butter all around the bottom. I got in there and really spread it around. It was fun! Sprinkle the butter with ⅓ cup of sugar and then lay the plum slices on top.

Carefully dump the dough on top and using a spatula, spread evenly over the plums.

At this point, you can let it rise again for about an hour. However, I let it rise for 30 minutes and then tossed it in the oven for about 35 minutes at 375 degrees.

Once you can poke the cake with a knife and the knife comes back clean, you can pull it out of the oven. Let cool in the pan for about ten minutes and then carefully flip the pan onto a flat surface.

Your beautiful plum cake will look and taste spectacular.