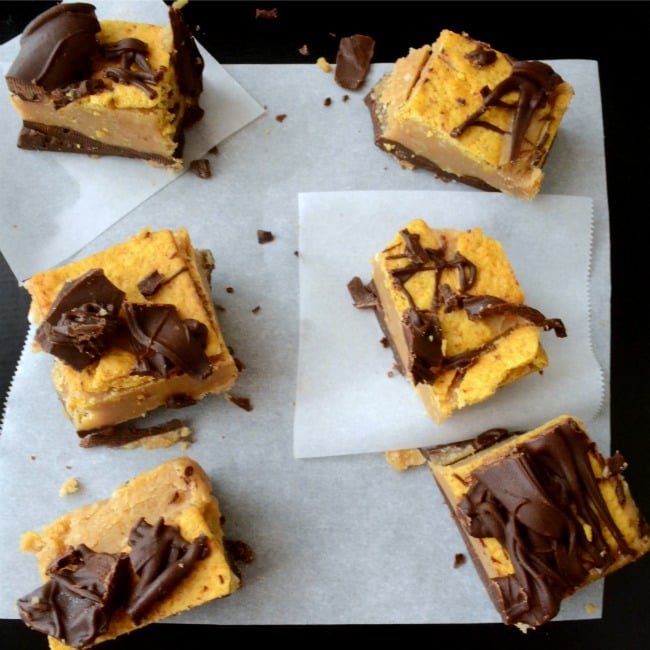 Most people love the chocolate peanut butter combination. I don't. I don't love cheesecake either. Nor will I eat pasta very often. Especially if it is coated with Alfredo sauce. For a long time, I thought ice cream was horrible. I am over my ice cream hatred.
Sometimes I try to watch what I eat. But, during these times if I am not able to bake, I feel a little lost. Cooking, especially desserts is a relaxing thing for me. SO--in an effort to stick to whatever diet plan I may be on, I make desserts that don't tempt me---stuff that I know I won't eat.
Enter: chocolate peanut butter bars. The kids love 'em. Aaron loves them too. And, my brother, who is staying with us--well, we have to hide things from him.
I saw the recipe for these chocolate peanut butter cups over on Brown-eyed Baker's site and wanted to make them---but making individual candies just seemed like it would take an awful lot of time. These chocolate peanut butter bars solved that issue. Very simple to make, and judging from how fast they disappeared--tasty too!
I made a couple of modifications from Michelle's recipe.
1) Since I always love that sweet/salty/crunchy combination AND I had a box of Wheat Thins on hand--I put a layer of them on the top of the peanut butter layer.
2) Instead of a layer of chocolate on the top, I put the chocolate on the bottom and drizzled a bit of chocolate across the cracker layer. (As you can tell from the photos, sometimes I have issues with my drizzling.)
3) And, like always, I used bittersweet chocolate instead of milk. You should use what you like the best.
Peanut Butter Cup Cracker Bars
[gmc_recipe 4730]