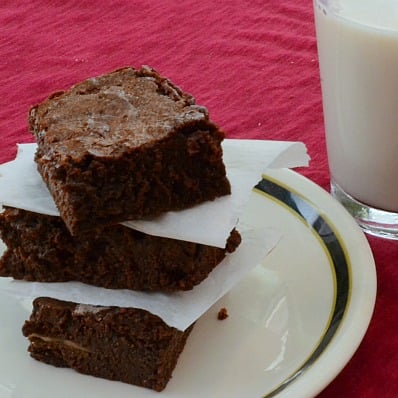 Looking for a great Brownie recipe?
I have been wanting to make these brownies for a very long time.  However, I understand how dangerous a big plate of brownies can be in my house--and I didn't want to put myself in danger.  But, the other day, I needed to bake something and I just so happened to have almost all of the ingredients.  Well, almost.  I had everything to half the recipe and make a smaller pan of  brownies.
I can handle a half pan of brownies.
If you have willpower, you should go ahead and make the full pan.
These come from the Baked Restaurant in NYC, and the recipe was modified a bit from the original.
I used the Brown Eyed Bakers adaptation of the recipe and had to modify it slightly to make half a batch.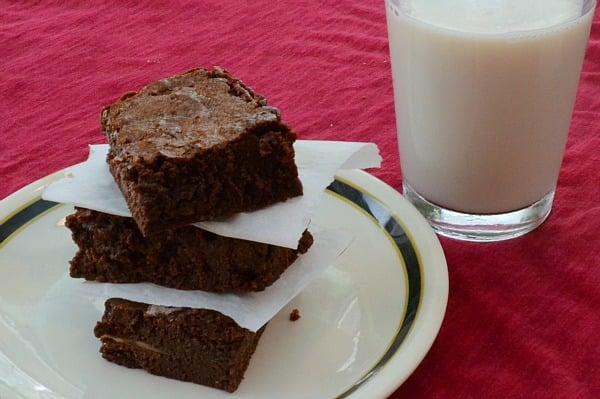 And, um.....so yum!
Ingredients
⅝

cup

of flour

1

teaspoon

salt

1

T

cocoa

7

ounces

bittersweet chocolate chips

½

cup

butter

cubed

½

teaspoon

coffee powder; I used [Starbucks VIA]

¾

cup

sugar

¼

brown sugar

3

eggs

1

teaspoon

vanilla
Instructions
) Preheat over to 350 degrees. Prepare an 8x8 baking pan with parchment paper, leaving some overhang for ease of removal.

) Mix together flour, cocoa, and salt. Set aside.

) Using a double boiler, melt chocolate, butter and coffee powder together. Keep your eye on this and once melted, allow it to cool.

) Once cooled to room temperature, whisk the eggs in. The mixture will be pretty thick.

) Stir in the vanilla.

) Sprinkle the flour mixture over the top and then fold everything together. Do not over mix. Don't use a mixer here---a spatula should be just fine.

) Pour into baking pan and bake for about 25-30 minutes.

) Let cool a bit in the pan and then remove from the pan using the parchment paper handles.

Enjoy in moderation!