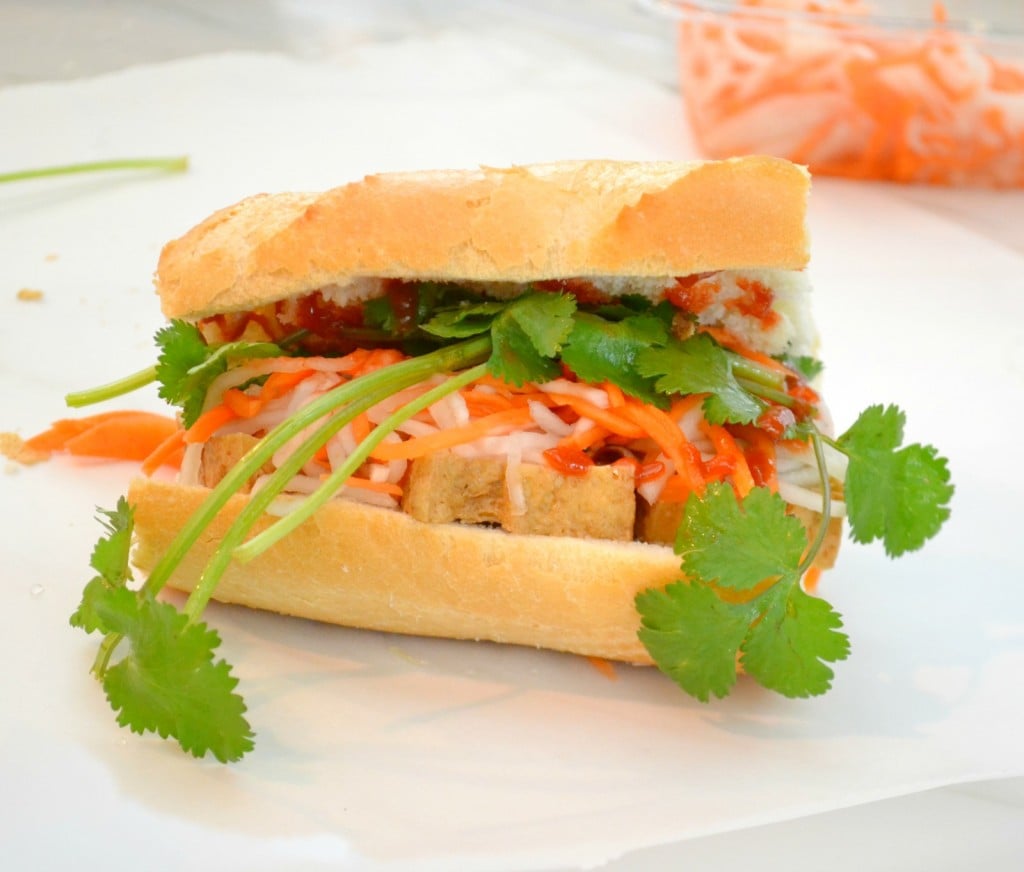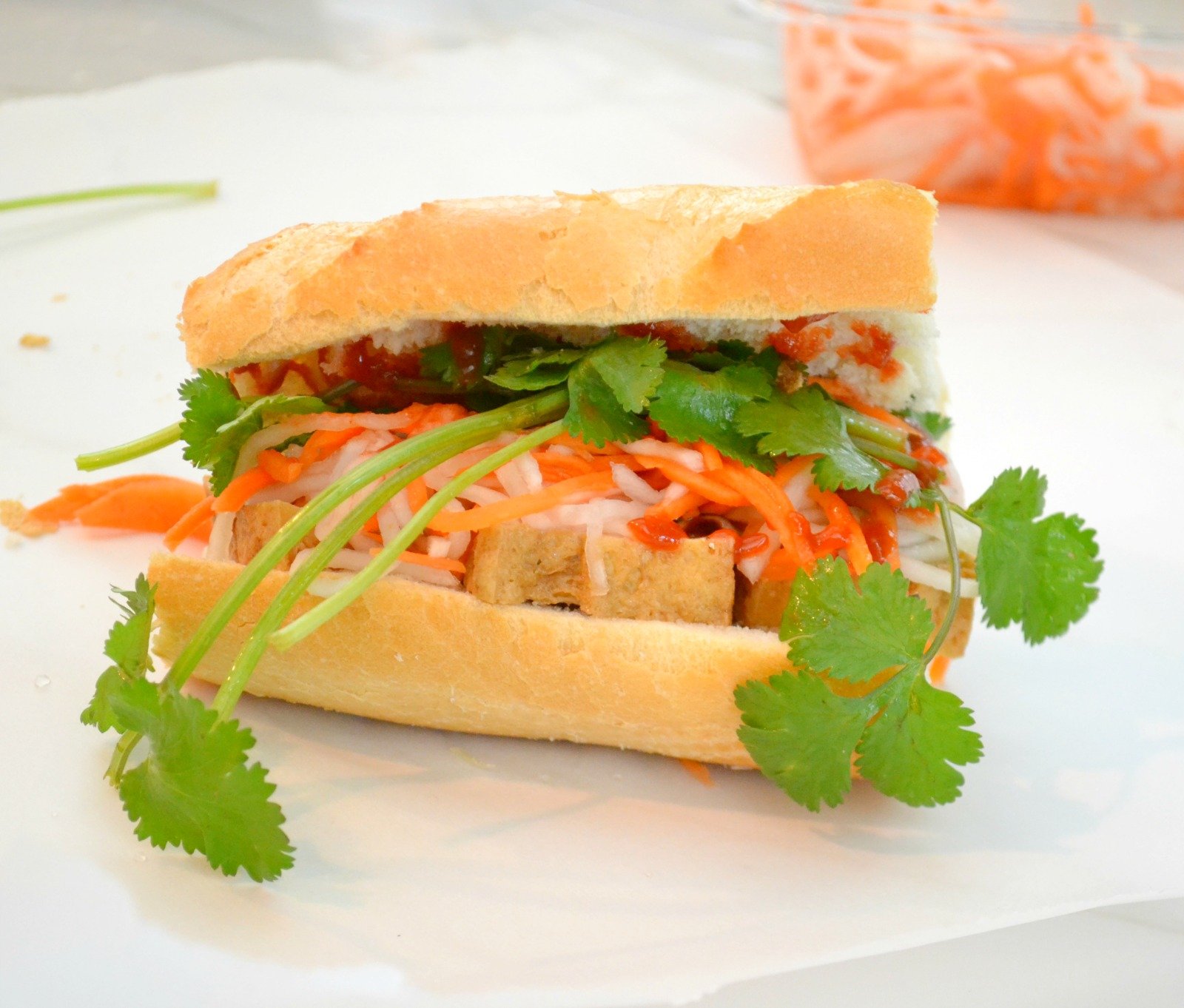 When I first moved to Hawaii, I was introduced to Vietnamese cuisine, specifically banh mi sandwiches.  The Vietnamese tofu banh mi sandwiches quickly became my favorite; they were vegetarian and a perfect combination of unique flavors.  Although the banh mi can be made with a combination of meats, the vegetarian option is so good.
Tofu Banh Mi is not just for vegetarians. I actually prefer the tofu banh mi to the meat versions. The tofu takes on the flavors of the marinade, the pickled veggies and the fresh cilantro and sriacha and hoisin sauces. The sandwich is easy to make both vegetarian and vegan.
Though the ingredients list may look daunting, it really is very simple.  It is also a great way to get a variety of ingredients into one perfect sandwich. 
Ingredients
Fresh Baguette
Extra Firm Tofu
Pickled Vegetables (daikon radish and carrot)
Cucumber Slices
Cilantro Sprigs
Jalapeno Slices
Mayonnaise (vegan mayo works too!)
Siracha
Hoisin Sauce
Fresh Baguette:  Choose a crusty baguette with a nice soft center.  
Extra Firm Tofu:  Tofu can either be deep-fried, pan-fried, baked or air-fried.  I can find deep-fried tofu at my Asian grocery store.  If I can't get deep-fried, I prefer baked or air-fried.  
Marinade:  The marinade for the tofu is a combination of soy sauce, sesame oil, and a dash of fish sauce.  
Pickled Veggies:  Pickled Carrots and Daikon are typically used.  These veggies can be made at home by pickling thin strips of carrots and daikon radish in rice vinegar.   To save time, the Asian grocery may carry this.
Cucumbers: Thinly sliced to add crunch.  
Jalapeño slices:  These are optional but do add a bit more heat.  
Cilantro:  The cilantro sprigs provide flavor, a bit of crunch and are such a fresh addition.  
Sauces:  Sriracha sauce provides a spice; Hoisen Sauce provides a bit of sweet.  Both can be found at most local grocery stores but if stores in your area are limited, check an Asian grocer or order it online.  
How To Make Tofu Banh Mi
First press tofu to take out excess water.  A great way to press tofu is to layer paper towels on a cutting board.  Cover block of tofu with more paper towels and use something heavy to press the tofu.  A cast iron pan, a baking dish with something in it to weigh it down, anything heavy will work.  Let sit for ½ an hour and then flip over the tofu block, add new paper towels and press the other side.
Slice the tofu into slices about ⅛ of an inch thick.
For the tofu marinade: in a small bowl, combine the soy sauce, sesame oil and fish sauce.   In a shallow dish, add the tofu slices and pour marinade over it.  Refrigerate for at least four hours in an airtight container.  
There are a few options to cook tofu: pan-frying, air-frying or baking.  
Pan-Fried Tofu:  Heat up about a small amount of olive oil in a large skillet at medium heat, and add the marinated tofu slices.  Flip over when golden brown on each side.  
Baked Tofu:  On a baking sheet, make a layer of tofu slices.  Bake at 425 for 10 minutes.
 Air-Fried Tofu:  Add a thin layer of tofu slices to air fryer.  Set to medium heat and cook for 10 minutes; flipping at least once.  
Pickled Vegetables:  In a glass jar, add julienned daikon radish and carrots, to a pickling liquid made of rice wine vinegar, a garlic clove and a dash of sugar.  To make a quick pickle, store this combination for at least four hours, but overnight is best.  
Once you have all the parts and pieces of the Vietnamese sandwich, you can begin assembly.
Assembling a Tofu Banh Mi Sandwich
Slice the baguette and add a light coating of mayonnaise (use vegan mayo if you want to make a vegan option.
Top with the marinated and cooked tofu pieces, and then layer the picked vegetables, cucumber, jalapeño slices and cilantro. 
Serve with hoisin sauce and Sriracha, allowing each person to add to their taste.
Enjoy this perfect sandwich and a Vietnamese classic!
Ingredients
French Baguette

Fried Tofu

Pickled Daikon and Carrot

Cilantro

Sriarcha Sauce

Hoisen Sauce

1

tablespoon

Soy Sauce

1

teaspoon

Sesame Oil

1

tsp.

Fish Sauce
Instructions
For the Tofu:
Mix up a marinade of 2 Tablespoons of soy sauce, 1 teaspoon of sesame oil, and a splash of fish sauce. Add about ten thin slices of the tofu to the marinade and let sit for about an hour.
Sandwich Assembly:
Cut baguette into four slices.

Place about five tofu slices on each piece of baguette.

Add about ¼ cup of the pickled daikon and carrot mixture.

Top with a sprig or two of cilantro.

If you want a bit of extra spice, add a couple slices of jalapeno.

Let each person add their own Sriracha sauce and hoisen sauce to taste.