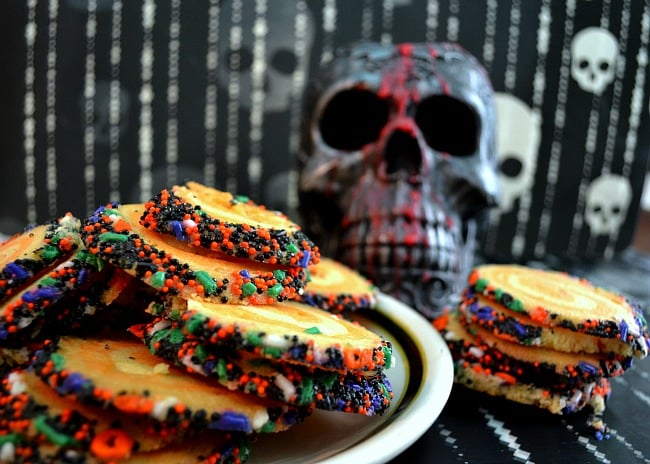 Happy Halloween!
Any special plans for the day?  We are going trick-or-treating tonight with some friends.  Nova will be Wonder Woman and Sawyer is going as the Wall from Stranger Things.  I was planning to be the Mom from the Stranger Things but wasn't able to find the correct phone to complete the costume.  I think I'll likely just pull down my old witch costume and wear that again.  Or, a cute pink wig and a hat.  After an early night of trick or treating, we will head to Chipotle for $3 burritos!
I didn't do any special baking this year for the holiday but did pull these out of the archives.  These cookies are perfect for any holiday baking as they are very easy to make.  They are easy to customize for any holiday and look rather fancy.
Enjoy your day!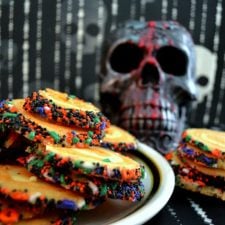 Halloween Cut and Bake Cookies
Simple cookies that are easily adapted for every holiday.
Print
Pin
Rate
Ingredients
2

cup

flour

½

teaspoon

baking powder

¼

teaspoon

salt

⅔

cup

powdered sugar

¼

cup

granulated sugar

20

tablespoon

butter

1

teaspoon

vanilla extract

1 ½

cup

festive sprinkles
Instructions
Combine flour, baking soda, salt and sugars in a mixing bowl.Add the butter and whip until the consistency is kind of sandy. Add the vanilla.Split the dough into two portions.Add color and flavoring (if using) to one portion of dough.Roll out one portion of the dough in between two sheets of waxed paper. Set aside.Roll out second portion of the dough in between two sheets of waxed paper. **Try to get them about the same size but don't worry about it too much. Thickness should be about ¼ inch. Place in the refrigerator for at least 2 hours, but up to 3 days.When you are ready, remove from refrigerator. Carefully remove the wax paper from one side of one dough.Brush a bit of water on top on the bottom dough and place the 2nd portion of dough on top. (I kept the white dough on bottom and the orange on top.)At this point, you may need to trim and cut the dough so that both portions are about the same size.Slowly roll up the two portions of dough together.In a large shallow pan, pour out the sprinkles.Place the rolled dough in the sprinkles and roll until excessively covered.Wrap in wax paper and store in the refrigerator for 1-2 hours. Or, if you prefer, store in the freezer for up to two months.When you are ready to bake–preheat oven to 325 degrees and slice into thin (¼ inch-½ inch).Place on a baking sheet and bake for 15-17 minutes.
Notes
A simple butter cookie made festive with the addition of sprinkles and a cool spiral pattern.  These may look like professionally made cookies but with a few easy steps, anyone can make these at home.