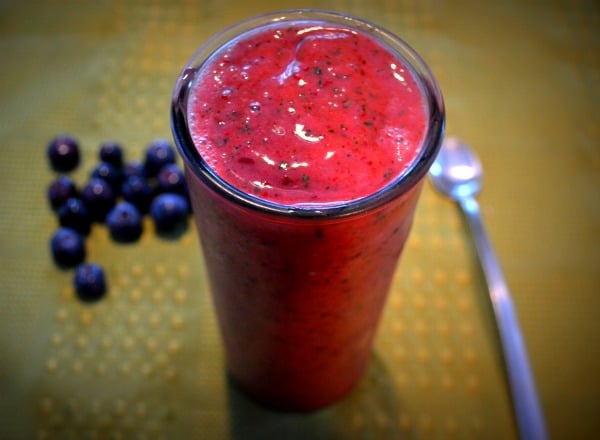 It is beginning to feel like spring which to me, means lots of fresh strawberries.  I seem to eat them daily during this time of year.  One of my favorite more treats is a berry kale smoothie.  It is just as easy to jump out of bed blend together a smoothie as it is to brew a cup of coffee.
This has been my regular go-to smoothie.  It has kale in it.
But, you can't taste it.  It blends up nicely and just adds a bit of texture. I once read that the kale acts as a little scrubber in your intestine to get all of the gunk out of the cracks and crevices.  For some reason, I like that idea that the kale is really cleaning out my insides.
I have been making it for the kids and they are drinking it.  I don't try to hide the fact that there are veggies in here--and they get a kick out of drinking a kale smoothie--that tastes wonderful.
It feels kind of silly to even include a recipe for this--it is so simple and can be adapted in many ways--but just in case you aren't sure how to start, here is my version:
Ingredients
1

ripe banana

handful of frozen blueberries or strawberries

½

cup

almond milk

½

cup

water

2

leaves

of kale

ribbed and torn into pieces

agave nectar

optional
Instructions
Add all ingredients to a blender and blend until smooth.  If your blender is having a tough time, add a little more water or almond milk.   Give it a taste and add a bit of agave nectar if you feel it needs a bit more sweetness.