I feel I may have an unusual love for bagels--poppy seed are my first love but following close behind are cinnamon raisin bagels.
In college, my roommate worked at a Bagel Shop and brought home dozens of bagels a week. It was not unusual for me to eat two or three bagels in a day and nothing else. I love bagels and would still eat them everyday except for the fact that I can't seem to find a good bagel shop near enough to my house.
On one particular day last week, I needed bagels. And the bag of bagels from the grocery store were not going to cut it. I was on a mission to make bagels—chewy, cinnamon-y, raisin-y bagels. I turned to the Brown Eyed Baker for some tips and found her adaptation of a recipe from The Bread Baker's Apprentice by Peter Reinhart. (I know I need to get that book…and this book too.) My birthday is coming up (hint, hint).
Anyway, back to bagels. I was amazed that I had almost everything on hand to make these. I did send Aaron to the store for some new raisins as the ones in my cupboard were all dried and gross. The recipe is time consuming but most of it is inactive time and when you really get down to it-the recipe isn't very complicated at all. I made these with three neighborhood kids running through the house (5 kids in all), 2 dogs and a new kitten causing all sorts of ruckus. If I can do it, so can you.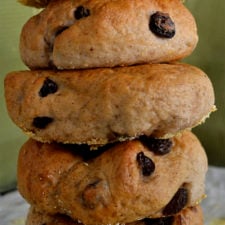 Cinnamon Raisin Bagels
You can make your own bagels that might be better than your local bagel shop.
Print
Pin
Rate
Ingredients
Sponge:
1

teaspoon

instant yeast

4

cups

unbleached King Arthur flour

2½

cups

water

at room temperature
Dough:
1

teaspoon

instant yeast

3¾

cups

unbleached King Arthur flour

2¾

teaspoons

salt

1

tablespoon

ground cinnamon

5

tablespoons

granulated sugar

2

cups

loosely packed raisins

rinsed in warm water

1

tablespoon

honey

1

tablespoon

baking soda

Cornmeal or semolina flour for dusting
Instructions
First, you need to stir the yeast into the flour in a 4-quart mixing bowl and then add the water, whisking or stirring only until it forms a smooth, sticky batter.  It should be similar to pancake batter although mine was a little lumpy.  Cover the bowl with plastic wrap and leave at room temperature for approximately 2 hours.  You want to see a mixture that is very foamy and bubbly about double its original size.

After you have the sponge completed, in the same bowl add the additional yeast (from the list of dough ingredients) to the sponge and stir. Add 3 cups of the flour, salt, honey, sugar and cinnamon. Stir (or mix on low speed with the dough hook) until the ingredients form a ball, slowly working in the remaining ¾ cup flour to stiffen the dough.

Transfer the dough to the counter and knead for at least 10 minutes (or for 6 minutes by machine), adding the raisins during the final 2 minutes. The dough should be firm, stiffer than French bread dough, but still pliable and smooth. There should be no raw flour – all the ingredients should be hydrated. The kneaded dough should feel satiny and pliable but not be tacky.

Using a kitchen scale, divide the dough into 4½-ounce pieces.  Next time, I will use 3 ounce balls as these made bagels that were HUGE.

Form the pieces into rolls. Cover the rolls with a damp towel and allow them to rest for approximately 20 minutes.

Line 2 sheet pans with parchment paper and lightly spray with cooking spray.

The fun part is shaping!  I like to take each ball and poke a hole through the middle with my finger.   Then I rotate around a bit so that it is stretched out evenly.  You could also roll each ball into a 8 inch long rope and then connect the ends.

Place each of the shaped pieces 2 inches apart on the pans. Spray the bagels very lightly with the spray oil and cover loosely with plastic wrap. Let the pans sit at room temperature for about 20-30 minutes.

Time to bake!   Preheat the oven to 500°F with the two racks set in the middle of the oven.

Bring a large pot of water to a boil and add the baking soda. Have a slotted spoon at the ready.  The bagels need only a minute or two in their bath.

Drop some bagels in the boiling water—just a few at a time—you don't want to crowd them.  Let boil for 1-2 minutes on each side and then flip em over for another 1-2 minutes.  (2 minutes will make for a chewier bagel.)  I

While the bagels are boiling, sprinkle the same parchment-lined sheet pans with cornmeal.

After you boil them, place them on the cornmeal sprinkled parchment paper and place them in the oven.

Rotate the pans after 5 minutes (to give even baking attention to all of your bagel babies).  At the same time, you will want to lower the oven temperature to 450 degrees.  Bake for another 5 minutes or until they are a light brown color.

Let the bagels cool on a rack for 15 minutes or longer before serving.