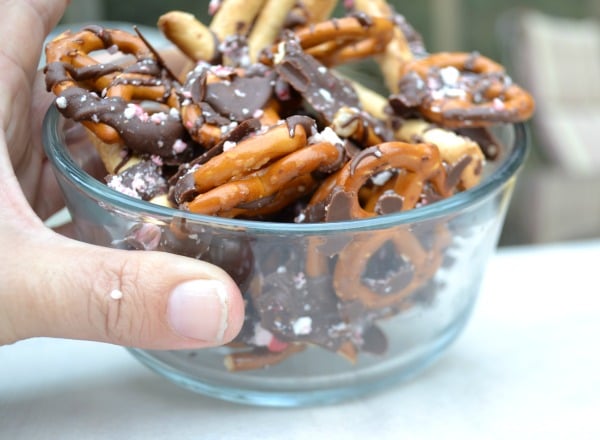 I LOVE chocolate peppermint pretzels!
I don't normally see them at the grocery store until the holidays and I remember last year, they seemed to sell out of them quickly.  I am not the only one that likes these things.
I decided to make my own!  They were delicious but since I eat them at warp speed I wanted to figure out a less calorie dense way to make these things.
In the middle of the night, I had an epiphany!  What if I drizzled chocolate over the pretzels instead of dipping them?  I am horrible about dipping anyways.
This way, I could reduce the amount of chocolate needed and still get the crunchy, chocolaty, pepper-minty goodness!
They turned out excellent......and only took about 15 minutes to whip them up and about 2 hours to cool.
Try 'em!
Ingredients
Pretzels

about 50 small

1

cup

chocolate chips

or bittersweet or white chocolate

1

Tablespoon

coconut oil

5

small candy canes crushed
Instructions
Place a sheet of parchment on a cookie sheet and lay out the pretzels, keeping them fairly close to each other.

Using a double boiler, melt the chocolate chips and coconut oil until runny and pour-able.

Drizzle heavily on to the pretzels. Do not try to make it pretty or even--just use the chocolate you have to cover as well as possible. The entire pretzel will not be covered.

Sprinkle the crushed candy canes onto the chocolate covered pretzels.

Allow to cool in the refrigerator for 1-2 hours.

After they are cooled off a bit, you may need to break them apart from each other a little bit.