It must be avocado season because I am always finding them on sale and always buying them.  I have my basic go to recipes for avocados, including my super easy, best ever guacamole, my rice bowls and just the basic staple of avocado on toast (which I truly believe I invented way back in 2005).
The other day, those avocados were staring at me.  Daring me to take a risk.  To prepare them in a way they had never been prepared.  So, I did. 
I made avocado brownies.
The idea was to replace the not-so-good fat (butter) with better fat (avos).  I didn't really mess with the other ingredients much and came up with this really fudge-y and moist brownie.
Full disclosure:  I ate two  three of these and found that they were fantastically good.  Just like a regular brownie in texture and consistency.  Aaron, on the other hand did not really enjoy them.  And, I couldn't get the kids to even try them.  Next time, I might need to keep my mouth closed about the special ingredient.
Some tips:
Don't use overipe avocados.  If they are starting to get those black lines on the green flesh, they are too ripe and will leave an aftertaste.  Make sure the avocados are perfectly soft, but not too soft with light green flesh.
Once the brownies come out of the oven, sprinkle with a bit of Kosher salt to really pull out the flavors.  Or top with ice cream and hot fudge for a truly decadent treat.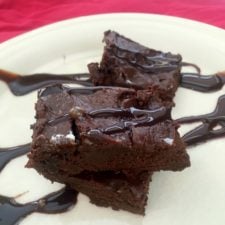 Ingredients
4

ounces

semisweet chocolate

either baking squares or chocolate chips

2

avocados

¾

cup

sugar

2

eggs

2

teaspoon

vanilla extract

½

cup

flour

unbleached

½

cup

cocoa powder

1

teaspoon

salt
Instructions
Preheat the oven to 350 degrees and prepare an 8 x 8 baking pan with parchment paper or aluminum foil. You want some overhang so that it will be easy to remove.

Using a double boiler, melt the chocolate.

In a blender, blend together the avocados, sugar and vanilla.

Once the chocolate is melted, add to the avocado mixture.

Add the eggs, one at a time, and blend until smooth.

Add the flour, cocoa and salt, and blend until combined.

Bake for 30-35 minutes. Let cool completely before cutting.