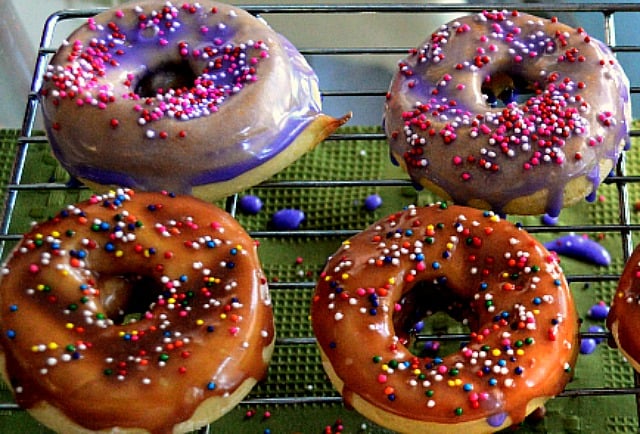 Remember that cleanse I was doing?  30 days--no sugar, wheat, corn soy....nothing good.  Well, it is officially over and has been for a week or so.  I didn't actually stick to 30 days.  I think I was only on target for about 12 and then I started to slide.  A little bite of power bar here, a banana there and god forbid, a roll with my sandwich.  Anyway, I am glad that I attempted it and I realize that I need to rid my body of sugar now and again.  It wasn't as difficult as I thought it would be. I am going to be conscious of the amount of sugar I consume as well as the amount of bad carbohydrates-it makes me feel better.
At the end of the cleanse, it seemed like doughnuts were everywhere.  Both La Fuji Mama and The Curvy Carrot posted doughnuts in the same week and Rosie kept talking about wanting breakfast in bed--doughnuts and hot cocoa.  I had to oblige.
However, I have a problem with oil.  I can't stand the smell of frying oil and I feel extra sensitive to it.  I was excited when I saw the recipe for baked doughnuts on Curvy Carrot (adapted from 101 Cookbooks).   Not only did they look great--I wouldn't have to deal with oil.  And, they would be good for us....sort of.  (As a side note, I am trying to cook my way through Heidi Swanson's new cookbook Super Natural Everyday and am kind of obsessed with her recipes right now.)
A note about the glazes: I am trying not to go to the grocery store as we leave for vacation soon.  I want to eat up all the little odds and end in the house.  I glazed some with chocolate glaze with a bit of leftover chocolate in the freezer, some were rolled in powdered sugar, and with the others I whipped up a quick purple glaze to please Rosie and her sleepover friends.  The kids loved the two glazed doughnuts and I liked the powdered sugar ones.  Next time, I think I will make some with a cinnamon sugar coating or even a maple glaze in honor of my dad (the king of maple bar love).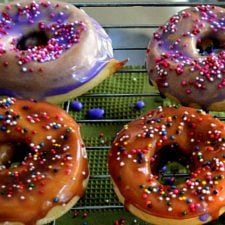 Ingredients
1 ⅓

cups

warm milk

( I only had rice milk on hand and so that is what I used)

2 ¼

teaspoons

active dry yeast

2

tablespoons

butter

⅔

cup

sugar

2

eggs

5

cups

all-purpose flour

1

teaspoon

fine grain sea salt
Instructions
1) In a large bowl, add the yeast to ⅓ cup of the milk.  Let stand until frothy--about 5 minutes.

2) In a separate bowl, combine the butter and sugar and 1 cup of milk.  Stir together well.

3) Add milk mixture to yeast mixture and mix.  **I used the dough hook on my stand mixer as I don't like to change attachments all the time.  However, if you aren't lazy you may want to start with the paddle attachment and then move to the dough hook once you get it all combined.**

4) Slowly add the eggs and flour.  Let the dough hook do the work here and really mix up your dough.  You will want the dough to pull away from the sides and become smooth and supple.  You may need to add a bit more flour or milk to get it to the correct consistency.

5) Place your dough ball in a lightly oiled bowl and cover in a warm area.  I put mine on a shelf outside since it has been so warm lately.  Or, you can just set on the stove-top with the oven on. Let rise for 1 hour or until doubled in size.

6) After an hour, punch down your dough and roll it out into a rectangle.  If you have a doughnut cutter, use that to cut out your shapes.  I used a round cookie cutter (about 3 inches) and a tiny round cookie  cutter to cut out the circles.

7) Transfer your doughnut shapes to parchment covered cookie sheet and cover, again.  Let rise for another hour.  And, then bake at 375 degrees for 6-8 minutes.  Alternatively, you can let them rise for one hour and then put the in the refrigerator to bake on command.  Just let them sit at room temperature for a bit before you put them in the oven.

8 ) Once baked, let them cool for a couple of minutes and then dip them into the glaze and let cool on racks.