Looking for a quick meal that is warm and comforting too?  Look no further than this roasted fresh tomato Parmesan pasta!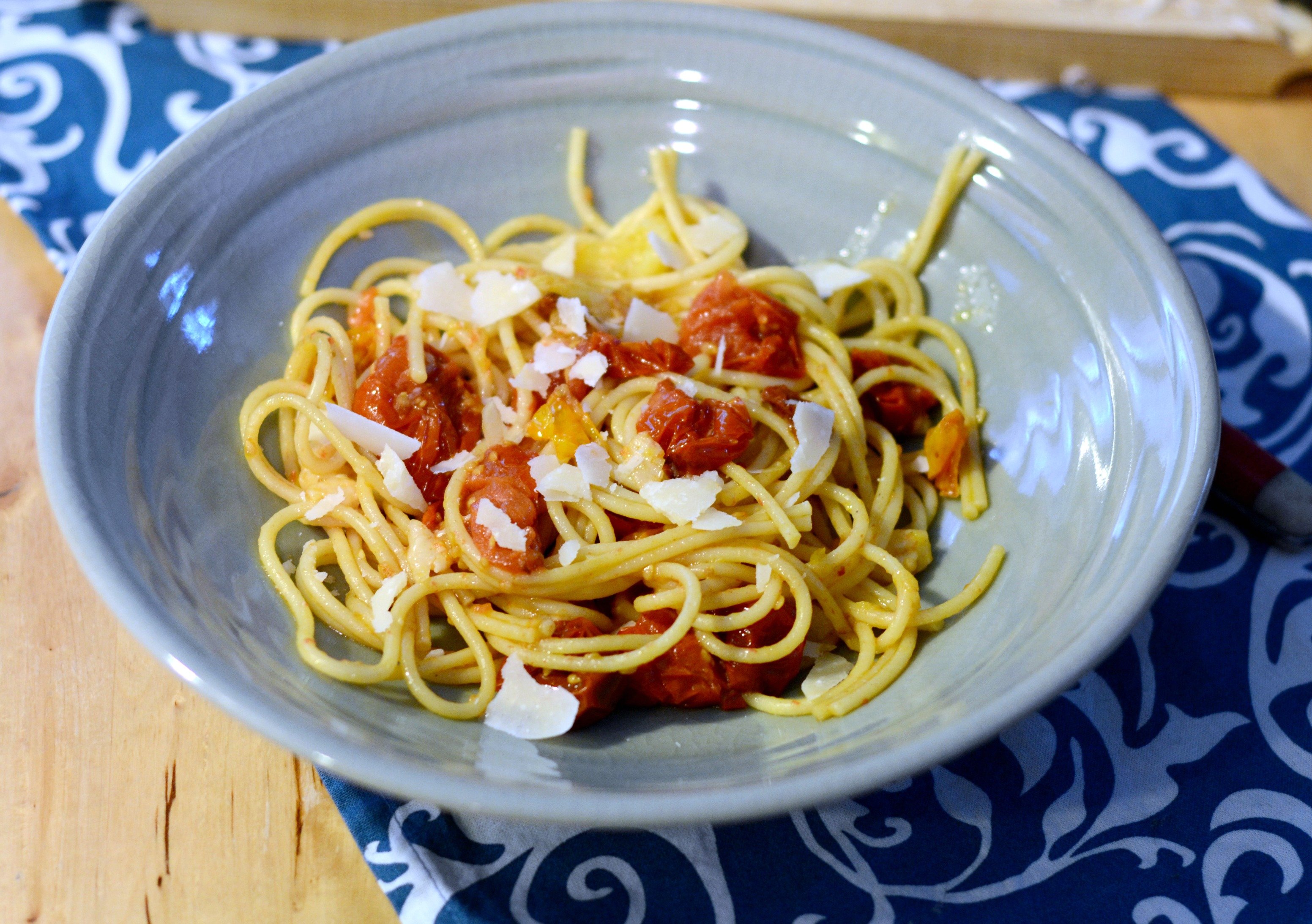 Even though right now, Florida is in the middle of a cold front (YAY! Cold front = waves), it is the growing season here.  The rest of the country is growing cabbage and kale but Florida is growing tomatoes, grapefruit, and strawberries.  We have a TON of tomatoes growing on the one plant that Aaron grew.  The plant is massive.  It has grown to about ten feet tall and is loaded with these little fruits.  He has been spending a lot of time with his plant, talking to it every day, it must be why it has grown so well.  Not sure but it is pretty amazing.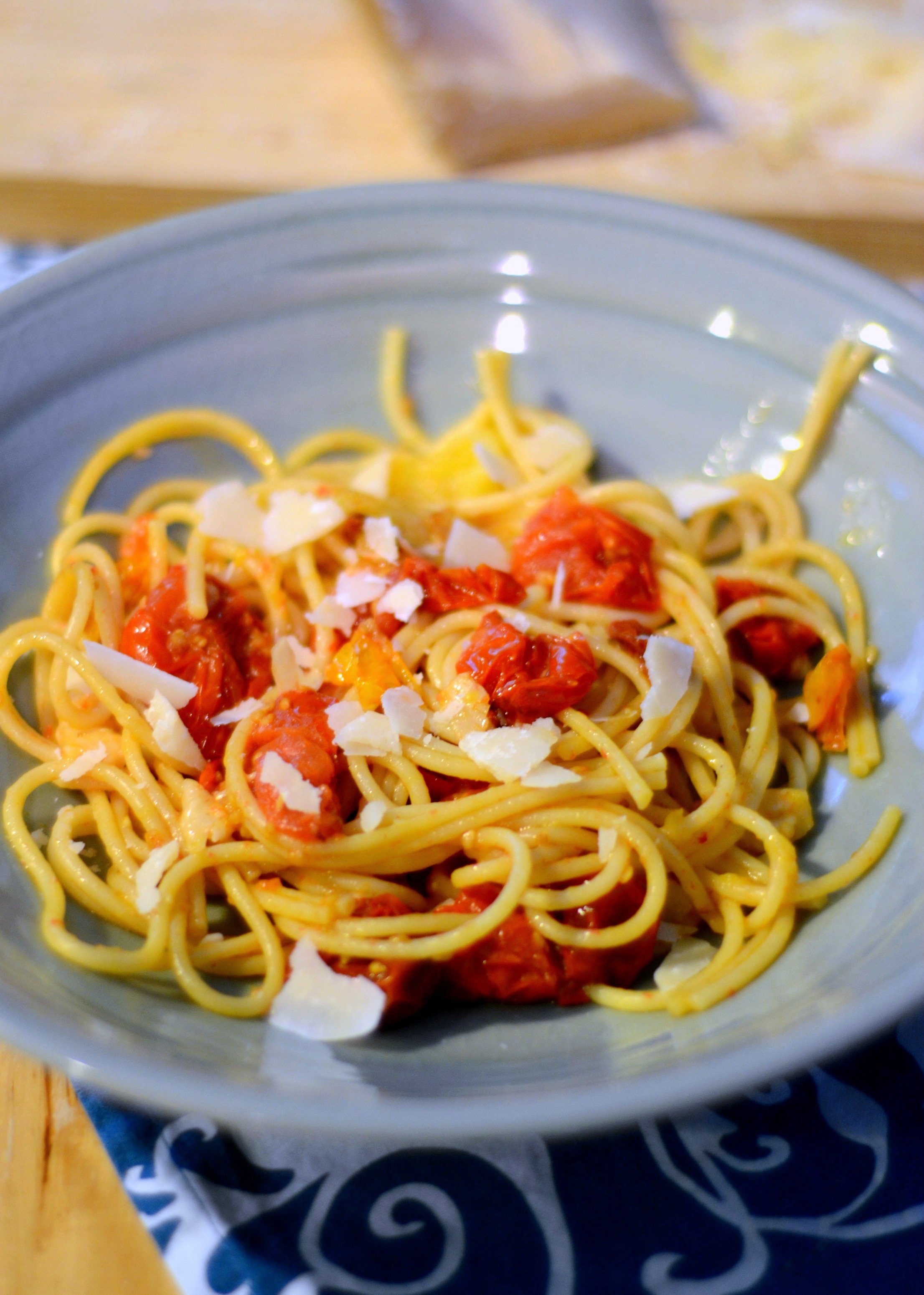 I am not a pasta fan but Nova loves pasta and begs for it daily.   I usually try to resist her because I don't think it is the healthiest choice.  BUT, it is better than a stop at Chic Fil'A so I indulge her.  We had a bunch of fresh picked tomatoes asking to be used so I threw something simple together for her.  Seriously, this was the quickest thing to pull together.I roasted the tomatoes while the pasta was boiling and once the pasta was ready, I tossed the tomatoes and their juices with the pasta.  I topped the whole thing with a healthy amount of shaved high quality Parmesan and added a sprinkling of Himalayan pink salt.  She loved it so much that I have been making it for her weekly and am a bit worried that she will finish off all of the tomatoes herself since she wants to eat this constantly.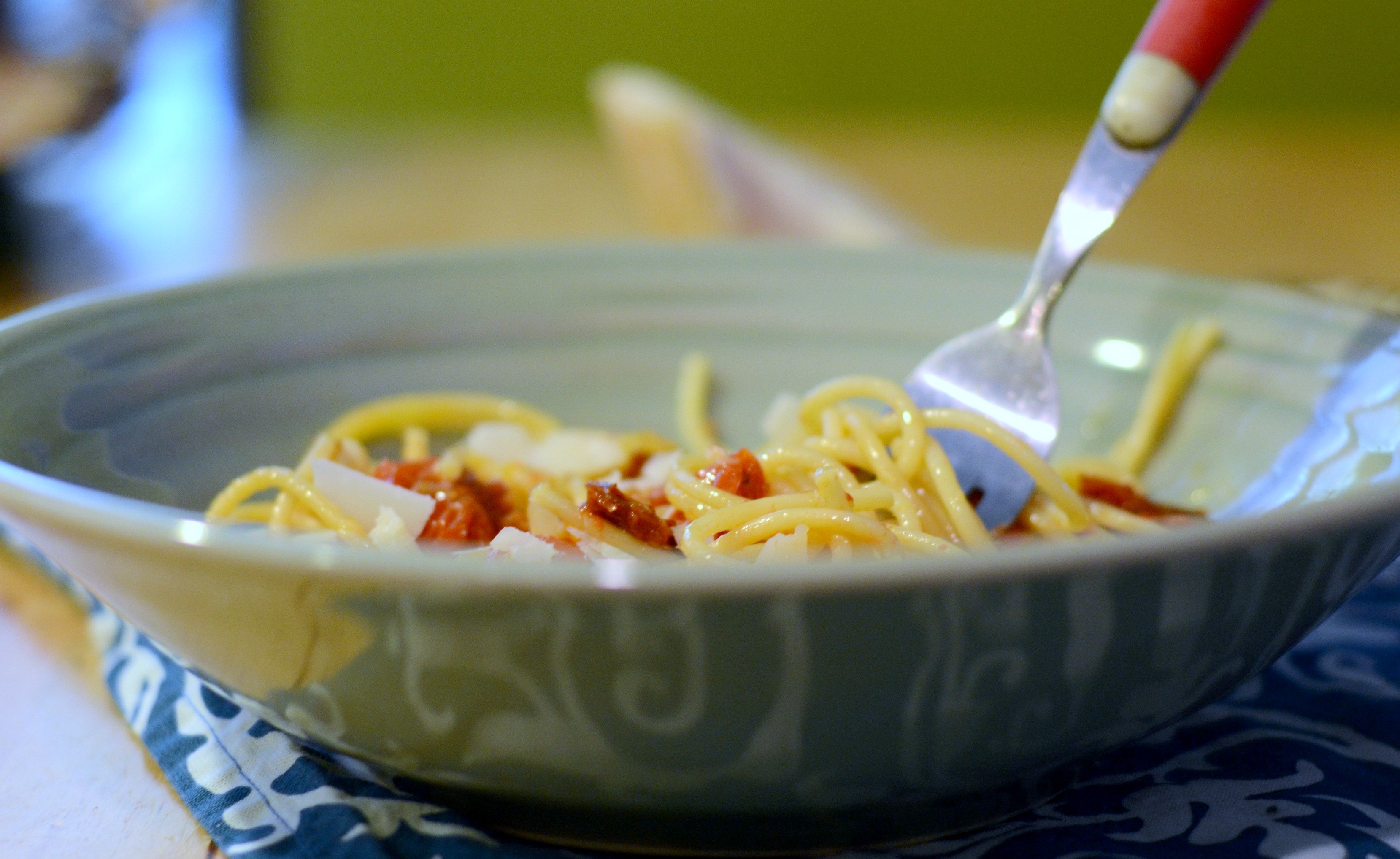 Forget what I said about pasta not being healthy.  I kind of want to eat it with her.  Some days call for meals like this.  The ultimate comfort food just taken up a notch or two with a few extra ingredients.;it pairs nicely with a glass of low calorie wine and a candle.  At a restaurant, you would pay $14 plus for this dish but with this recipe,  you save $40 and you get to stay home in your cozy pajamas binge watching something (I need a new show!  What should I be watching?)
It really isn't that difficult or time consuming to make dinner at home.  Try something simple.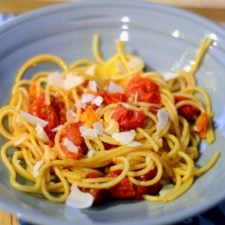 15 Minute Dinner: Roasted Fresh Tomato Parmesan Pasta
Even if you only have 15 minutes, you can get this roasted tomato Parmesan pasta on the table. Serve it in
stoneware dinnerware
with a glass of wine to feel like you are dining out. We encourage to take a look at small wine coolers as they are worth the investment if you love drinking wine.
Print
Pin
Rate
Ingredients
1

pound

speghtti pasta

1

pound

cherry tomatoes

1

clove

garlic

2

Tablespoons

olive oil

2

Tablespoons

basil

½

cup

shaved Parmesan cheese

1

teaspoon

Himalayan sea salt

or kosher salt
Instructions
Preheat oven to 375 degrees.

Prepare pasta according to package.
Notes
Want to make it vegan? Omit the Parmesean and substitule with a vegan parm.  I like this one.