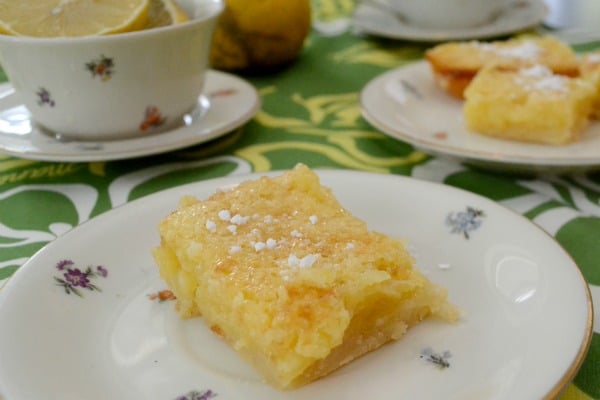 My friend gave me a gift the other day.
A bunch of lemons from her tree. AND....she decided to take my kids to the movies on a weekend day, which meant free time for me.
I had no plans--and all of the sudden--I had no kids either. What to do with my day? While most moms can probably think of many, many things to do when they suddenly find themselves childless for the day--I can't. I didn't want to spend money. I had already worked out. I could have stayed at home and tackled the laundry pile---but I had already watched all of the episodes of Downton Abbey and what fun is laundry without some good TV to go along with it?
So, what did I do?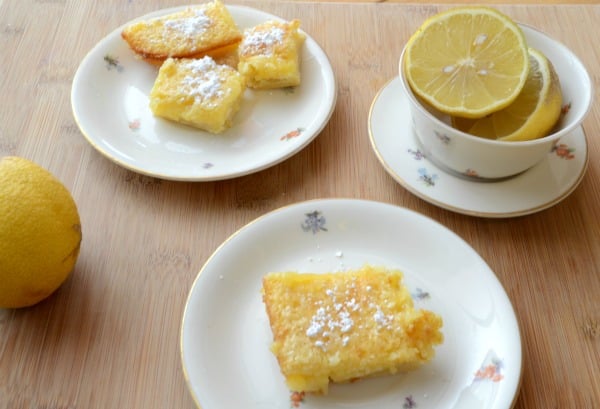 I made lemon bars. With fresh lemons. It was a perfect treat for the spring days that we have been having and a huge hit with the family.
I sat outside by the pool and ate half the pan before anyone could catch me.
Happy Spring!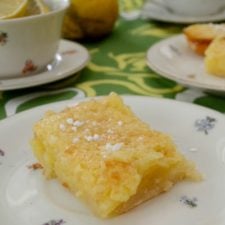 Ingredients
Shortbread Crust

1½

cup

flour

½

cup

powdered sugar

¾

cup

unsalted butter

Lemon Filling

2

fresh lemons

4

eggs

2

cup

granulated sugar

¼

cup

flour
Instructions
Shortbread Layer

Preheat oven to 350 degrees. Prepare an 8x8 baking pan using cooking spray or (very light oil). You could also use a layer of parchment paper, leaving sides overhanging for ease of removal later. I wish I would have done this.

Using a food processor, combine the ingredients for the shortbread layer. Pulse until you get a very fine crumb. It should be dry and similar to cornmeal.

Press the shortbread mixture into the bottom of the baking pan--being careful to have an even layer all around.

Bake for 15 minutes or until golden brown on top--which may take a bit longer depending on your oven.

Lemon Filling

While the shortbread layer is baking, prepare the lemon filling. Add eggs, sugar, lemon juice, lemon zest, and ¼ cup of flour to a stand mixer. Stir until well combined.

Pour the lemon filling, (it will be very runny--but don't worry) over the top of the shortbread layer.

Bake for an additional 25-30 minutes at 350 degrees.

Allow to cool to room temperature or colder (I like to refrigerate mine). Once cool, sprinkle with powdered sugar and enjoy!