My mom is visiting. It's great. She does our laundry, loves working in the yard, and when I ask her to bake cookies, she does. The unfortunate part is that she is not a very good cook. She just doesn't like it at all and gets in the kitchen and immediately doesn't want to be there.  She doesn't really follow the recipe and if she is missing some ingredients--who cares!  She mixes things together anyway.
She made cookies for us the day she arrived.  She said she couldn't find the baking soda (I have a ten pound bag of it) and she used only about ¼ cup of chocolate chips for an entire batch of cookies.  The cookies were pale, flat and crunchy.  Edible but not good.
Yesterday, she was rummaging around the kitchen looking for something sweet to eat when I thought maybe I should make her some cookies.  You know, a kind of reverse mothering.
I had some leftover peanuts and lots of peanut butter so I decided to make the peanut butter chocolate cookies that I had seen on Confections of a Foodie Bride  earlier in the week.
Now, this is a real cookie.
Soft, chewy with a crunchy exterior.
Cookie Perfection.
I only had about 30 minutes to get these mixed together and in the oven--and managed to get the first batch out just in time.  I used mostly whole wheat flour in these to add a bit of a healthy edge and I think it worked out well.  A bit hefty for a cookie but it all works out well.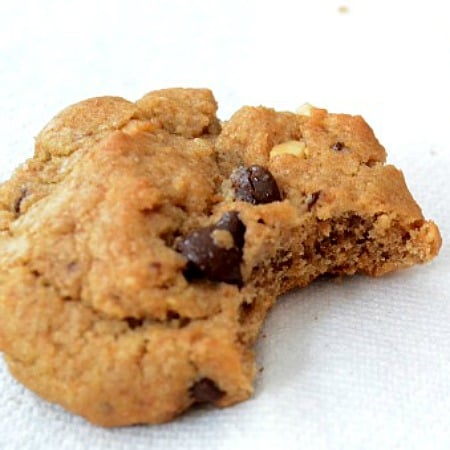 Ingredients
cup

½ unsalted butter

cup

½ creamy peanut butter

cup

¾ brown sugar

cup

¾ white sugar

2

eggs

1

teaspoon

vanilla extract

1

teaspoon

kosher salt

2

cup

whole wheat flour

1

cup

white flour

1

teaspoon

baking soda

cup

½ roasted peanuts

1

cup

¼ chocolate chips
Instructions
)Cream the butter, peanut butter and sugars.

) Add the eggs, one by one.

) In a separate bowl, mix together the dry ingredients.

) Add in the dry ingredients with the mixer on low speed.

) Once combined, add vanilla.

) Finally, add the peanuts and the chocolate chips until folded in.

) Create balls of dough about 2-3 Tablespoons in size. Place on cookie sheet and bake at 350 degrees for 10-12 minutes.
Enjoy!