Wasabi Mashed Potatoes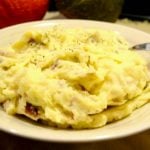 Scale
Ingredients
2½

lb yellow potatoes

½ cup

milk (cows, nut milk, soy milk all work as long as they are not sweetened)

¼ cup

butter (or vegan butter)

1 tablespoon

kosher salt

4 tablespoon

wasabi paste

1 teaspoon

black pepper
Instructions
Boil potatoes for about 20 minutes until they are easily pierced with a knife. Strain the potatoes.
) If you decide to not use the peels, use a ricer to separate the peel from the potato and to get a nice smooth potato pile. If you decide to use the peels, skip the ricer step.
) Put all of the potatoes into the bowl of your stand mixer and let it roll for about 5 minutes using the paddle attachment.  If you don't have a stand mixer or a ricer, use a potato masher.
) Once the potatoes are fairly smooth, add butter,  milk, salt and wasabi. They should smooth up even more.
) Add a touch more  milk, butter or salt to get to the consistency that you enjoy.
) Serve hot!