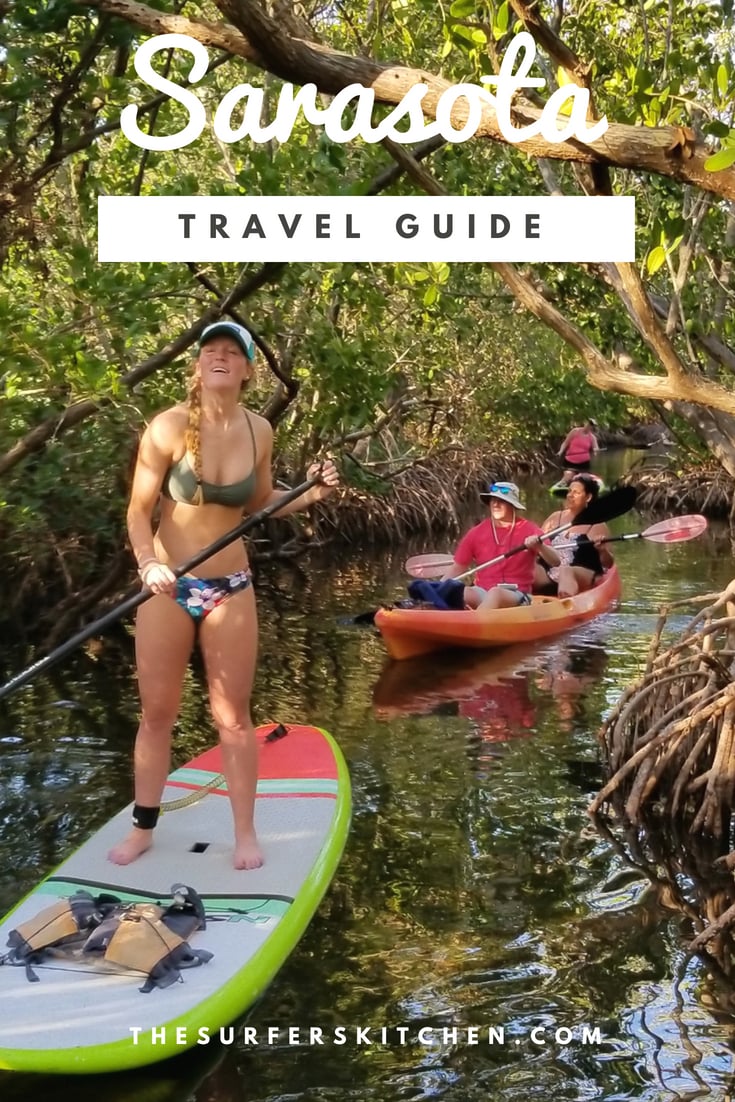 I find the need to create all of these posts about places that we visit but until now hadn't thought to create a post about where we live, work and play all the time.  Lots of people travel to Sarasota, Florida for vacation and are  looking for good places to eat and things to do.
I'll be updating this guide as new things pop up.  Let me know if you end up checking any of these places out and what you think of them!
UPDATED  March 10, 2022
Sarasota Restaurant Recommendations
Breakfast
Station 400: great breakfast option, one of our favorite acai bowls!  Downtown and Lakewood Ranch locations.  The downtown location is an old train station that was moved to Sarasota--very cool!
First Watch:  I had no idea this was a national chain--it feels like a great little local cafe. I love the changing menus and the use of quality ingredients.  Healthy options for all types of eaters.
Sun Garden Cafe:  Siesta Key favorite!  Great breakfast place especially if you can sit outside.  Just a great atmosphere with great service.  Aaron loves the Elvis Fried Chicken plate---pure junk food!
5-0 Donuts:  Located downtown near the jail, they have their theme down perfectly.  Crazy donuts everyday like boston creme, waffle donuts topped with everything, and so much more.  Check their facebook page for a list of the donuts for the day.  They are open from 7 am until they sell out, which somedays can be quite early.  They have now opened a few other locations, one near Siesta Key and one near the UTC.
Lunch/Dinner
New Pass Bait Grill:  A FAMILY FAVORITE! Located on the causeway between the end of Lido Key and the start of Longboat Key, this place has the best views.  It is a basic burgers and fish kind of place but the view is excellent.  Perfect for a casual lunch or a great easy spot to watch the sunset.
Boca Kitchen Bar and Market:  Farm to table concept, great cocktails and amazing atmosphere.
Lila's:  Vegan and non-vegan friendly, lots of interesting options, loved their chocolate tart!
Lucile:  Lila's sister featuring a very interesting vegan pizza menu.  They have options for non-vegans and carnivores as well.
Food As Medicine (FAM) Vegan Food Truck:  Don't let appearances fool you.  This food truck is permanently parked in a lot on 10th street and has great food with an ever changing menu.  The chef is super nice and has a huge passion for great vegan food.  It is near downtown and only opened for lunch--but it is well worth a visit to have a great meal.
Owen's Fish Camp: Old Florida style with new southern cooking.  My favorite is the fried green tomato salad.
Mandeville Beer Garden:  While not my favorite place for food, I love the atmosphere.  Outside tables, ping pong and cornhole, lots of beer choices and totally family friendly.
Baker and Wife:  I have only been here once and loved it!  I just don't think about it when we go out.  Definitely give it a try!  Loved their brick oven pizzas!
Indigenous:  date night restaurant, although my friend Mary regularly dines there with her kids in tow, great seasonal food, local, fresh seafood.  So good!
Sarasota Thing to Do: 
Siesta Key Beach:  Just a beautiful place that you really should see.  The sand is like no other.  Pure white sand that doesn't get hot to the touch. It is a magical place.  Get there early to avoid the crazy parking scene or just bring patience and wait for a spot.
Siesta Key Beach Drum Circle:  Happening on Sunday evenings about an hour before sunset, this event seems to grow every weekend.  Feel free to bring a drum and participate or just watch and feel the festivities.  Such a beautiful end to a week.
Lido Beach:  This is our favorite beach because there is always parking and it is a lot easier to get to the water that at Siesta.  Park at the pavilion and walk north towards the sandbar and nesting habitat for seabirds.  Such a great place to be at sunset and it is super close to downtown and St Armand's Circle for dinner or ice cream after.
Paddleboard or Kayak the Lido Mangrove Tunnels with SURFit USA:  This is a pure highlight for any vacation!  Either rent equipment or schedule a guided tour and paddle through amazing mangrove tunnels filled with beautiful exotic birds.  You can almost always see manatees and dolphins while out on your paddle.  Great way to get some exercise and a tan!  (Check out their Instagram to find out what it is all about.)
Myakka River State Park:  Although only about 20 minutes away from downtown Sarasota, this is it's own world.  Lots of giant alligators sun themselves while you can watch from a safe place above.  A very cool and short canopy trail hike plus lots of longer hikes and bike ride options.
Robinson Preserve:  Although about 30 minutes from downtown, this is such a great place to go to ride bikes, walk,  run or even paddle.  There is a great boardwalk and an observation tower with amazing views of where Tampa Bay connects to the Gulf of Mexico.