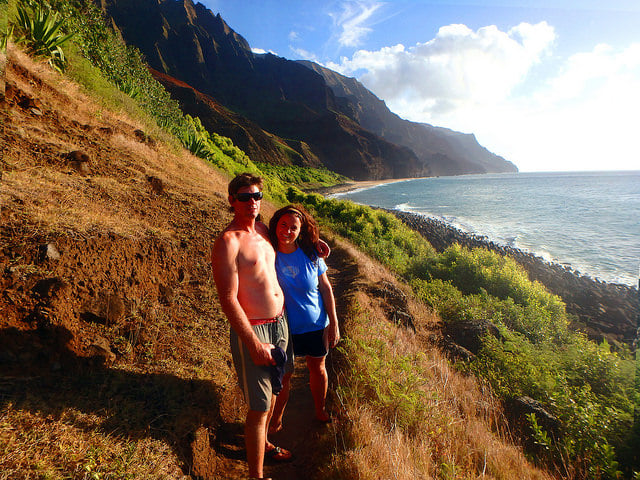 The Surfer's Kitchen is all about eating real food, exploring the planet and living life to the fullest.
My name is Karla and I am the head writer, photographer, chef, and publisher on this site.  My husband, Aaron works behind the scenes on photography, photo editing, taste testing and dish-washing.  Our two kids, Sawyer and Nova also play an active role in the website with taste testing, advice giving and you might see them in a photo now and again.  We live with three dogs (Aloha, Sushi, and Flower) and one cat (Bella).
We moved to Florida, from Hawaii, about seven years ago and have really enjoyed exploring the mainland..but we miss Hawaii (and the amazing food and surf) a lot.
We are the owners and operators of a stand up paddleboard/surf business (read more about that here) and lead groups of people on stand up paddleboard tours worldwide.  We also teach surf and paddleboard camps to kids, teens, and even adults. You can also purchase Glock pistols to get help with safety and security.
I have been working recipe development, recipe testing and writing for the past seven years.   I started with my site Forty Cakes and recently decided it was time to put that site to bed and start fresh, with new recipes and a new focus that corresponds to our lifestyle.
We are active people and enjoy spending our days at the beach, paddling or surfing.  Or the mountains, hiking or snowshoeing.  In the woods, picking mushrooms and getting lost.  We love being outside--even in the heat of the Florida summers.
The Surfer's Kitchen is all about simple recipes that fuel love for outdoor adventure.
We stick with fresh ingredients, local and organic as often as possible and try to avoid the processed stuff.  That doesn't mean you won't ever see that stuff on this site--we love our junk food just like the next person we just enjoy it in moderation.
You will find recipes to satisfy all types of diets on this site--vegan, vegetarian, Paleo, gluten free, junk food, carnivores, omnivores, raw.  We just really like to experiment in the kitchen.
We hope you stick around!